Ford Offering 14 Styles And 2 New Engines
Ford Offering 14 Styles And 2 New Engines
The Spartanburg Herald
4 March 1954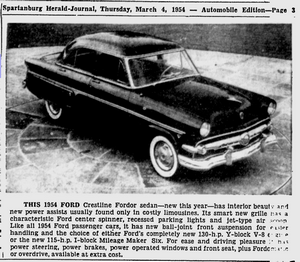 This 1954 Ford Crestline Fordor sedan—new this year—has interior beauty and new power assists usually found only in costly limousines. Its smart new grille has a characteristic Ford center spinner, recessed parking lights and jet-type air scoop. Like all 1954 Ford passenger cars, it has new ball-joint front suspension for easier handling and the choice of either Ford's completely new 130-h.p. Y-block V-8 engine or the new 115-h.p. I-block Mileage Maker Six. For ease and driving pleasure it has power steering, power brakes, power operated windows and front seat, plus Fordomatic or overdrive, available at extra cost.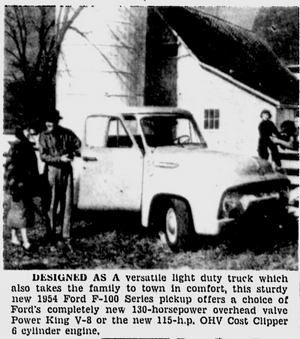 Designed as a versatile light duty truck which also takes the family to town in comfort, this sturdy new 1954 Ford F-100 Series pickup offers a choice of Ford's completely new 130-horsepower overhead valve Power King V-8 or the new 115-h.p. OHV Cost Clipper 6 cylinder engine.
"The Ford Motor Co. is collecting on an eight-year investment", Henry Ford II, president, said recently in discussing the 1954 line of Fords being shown in the Spartanburg Auto Show.
"The dividends are growing preference and increasing sales for our products, a greater share of the automobile market and greater service to the motoring public.
"In 1945, the company and its dealers began tremendous programs of facility expansion and modernization. Together, we have spent some two billion dollars, with more to go."
Ford Division and Ford dealers are presenting a broadened line of passenger cars this year, with 14 body styles and a choice of two new V-8 or 6-cylinder engines in all lines.
The '54 models offer seven features exclusive with Ford in the high volume field:
1. An entirely new 130-h p. Y-block V-8 engine with overhead valves.
2. A new 115-h p. I-block Mileage Maker Six engine, noted for economy.
3. Ball-point front suspension, which Ford engineers call the greatest advancement in front suspension in 20 years.
4. The Skyliner—an entirely new hardtop model with tinted, transparent plastic roof over the driving compartment.
5. A smart new Ford Sunliner convertible with an optional transparent plastic panel available in the top over the front seat to provide overhead visibility when the top is in place.
6. Four new power-operated driving assists: power brakes, power steering, 4-way power seat, power-lift windows.
7. Fordomatic transmission.
"The two new Ford engines for 1954—the Y-block V-8 and the I-block Mileage Maker Six—have been under development for the past six years," L. D. Crusoe, vice-president Ford Motor Company and general manager of Ford Division says.
"It always has been Ford's policy to build engines that set the pace for the industry. Ford was first to offer a V-8 engine in the low-price field. Although the majority of expensive cars have joined the V-8 parade, Ford today is still the only car in its price class to have V-8 power.
"For 1954 Ford has perfected two new engines that are as far ahead in their fields as the original V-8 was in its day. They represent the greatest power advances since the original Ford V-8, and they have the benefit of Ford 'know-how' gained in building more than 16 million V-8 engines during the past 22 years."
In 1954, for the first time, Ford is offering a choice of V-8 or 6-cylinder engine in all models—widening the line to a total of 28 models for 1954.
The '54 Fords present a new grille with the characteristic Ford center spinner, recessed parking lights and jet-type air scoop. There is a new Delta-wing hood ornament, a half inch increase in front fender height, a new diagonal slant to the headlamps, and a new chrome strip running the length of the car.
Ford's jet tube tail lights have new black rectangles set into the molding, and the large circular red lens has a star-like inset. Tail lights, brake lights and turn indicator lights are designed into the lens unit.
Connect with The Crittenden Automotive Library