New Road Leads to New Business in Cameroon
New Road Leads to New Business in Cameroon
Moki Edwin Kindzeka, VOA News
28 May 2015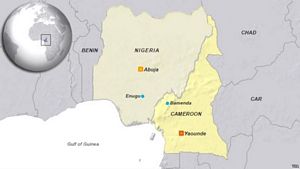 Bamenda, Cameroon and Enugu, Nigeria
YAOUNDE — African road experts are meeting in Cameroon to discuss potential road networks that would link the major markets of the continent. One such road is being built in West Africa, linking the Cameroonian town of Bamenda and the Nigerian town of Enugu.
Thirty-four-year-old Enow Tambe clears his cassava farm in Numba village in northwestern Cameroon. The University of Yaounde graduate moved to the village and opened a cassava farm after a portion of the Bamenda-Enugu road opened in the area three years ago.
"After the road was constructed, I discovered that so many people were coming from Nigeria to buy food and vegetables," Enow Tambe said. "They also came to sell cosmetic products. So I opened this farm to grow and sell in Nigeria. I must tell you, there is a market there that I find difficult to produce enough for them."
Tambe's wife Elvira has also opened a farm where she grows vegetables for the Nigerian market. Elvira has recruited three people that she pays $35 each week to work on her farm.
"I pay for workers to clear, to till, but I also do some work like planting and weeding. It costs almost 70,000 CFA for the expenditure, but I am able to have that twice or more than," said Alvira Tambe.
The Enugu-Bamenda highway, still under construction, is part of the Trans-African Highway conceived more than 30 years ago as a transcontinental link from Lagos, Nigeria on the Atlantic Ocean to Mombasa, Kenya on the Indian Ocean.
Upon completion the road will also link landlocked sub-Saharan African countries.
Don Hogben of the World Road Association says such initiatives should be encouraged so poverty can be eradicated in rural parts of Africa through job creation and and better access to markets.
"The transport of goods is a global problem," said Hogben. "It is so important to the economies of nations whether they are developed countries in Europe or Australasia or countries in Africa. The transport of goods has to be done safely, it has to be done efficiently for the good of all the people, and I think an important part of that is not only that drivers and companies operate safely but the road system also has to be of a very good quality and suitable for the vehicles that are in use. The opportunity from better roads is very, very high and I am sure there are similar opportunities all over Africa."
Nigeria and Cameroon signed a Memorandum of Understanding seven years ago to build the Enugu to Bamenda road and promote socio-economic development and integration. It is funded by the African Development Bank. Its total cost is $423 million.
Two hundred three kilometers of the 443 kilometers of road on Cameroon territory has been completed.
Connect with The Crittenden Automotive Library