Thailand Races to Supply SE Asia's Demand for Vehicles
Thailand Races to Supply SE Asia's Demand for Vehicles
Steve Herman, VOA News
22 October 2013 (3:59PM)



Download Thailand Races to Supply SE Asia's Demand for Vehicles in MP4 format - 23.5MB - 3:25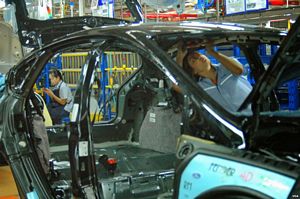 About 2.5 million cars and trucks will be built in Thailand in 2013. (Steve L. Herman/VOA)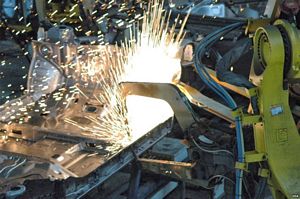 A robot helping to make a vehicle in a Honda factory in Thailand. (Steve L. Herman/VOA)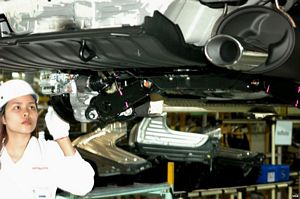 Future expansion of the Thailand's auto production industry could be hampered by a labor shortage. But women are already a vital element of the workforce, comprising one nearly third of workers in some factories. (Steve L. Herman/VOA)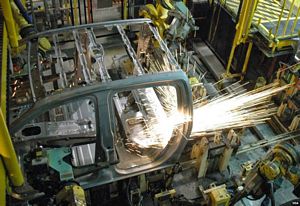 Sparks fly as a robot helps to assemble a vehicle in a GM factory. (Steve L. Herman/VOA)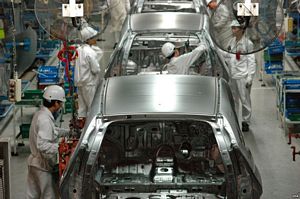 Honda is among auto manufacturers in Thailand striving to take a larger share of the domestic market from dominant Toyota, which in recent years has sold nearly one in three vehicles purchases in the country. (Steve L. Herman/VOA)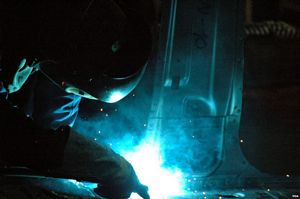 A worker welding inside the body of a car on a GM assembly line in Thailand. (Steve L. Herman/VOA)
About 400,000 workers are employed in Thailand automobile factories. These workers in the Ford canteen enjoy a free meal during their shift. (Steve L. Herman/VOA)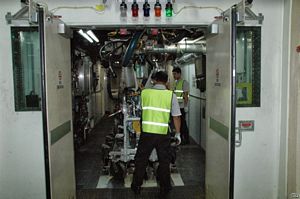 An engine completing a ten minute "hot test" after being assembled at the GM Duramax plant in Thailand. (Steve L. Herman/VOA)
Some automakers manufacture their own engines in Thailand. Others import them. This Ford engine is made in India. (Steve L. Herman/VOA)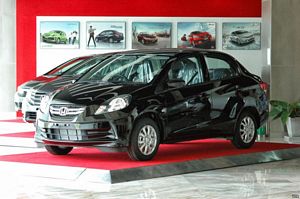 Automakers say while they strive to make cars in Thailand which meet global standards the vehicle designs need to be modified to meet the criteria of Southeast Asian roads and driving habits. (Steve L. Herman/VOA)
RAYONG — Thailand is gaining a reputation as the "Detroit of the East" for its booming automobile industry. It is now the world's third largest maker of commercial vehicles, behind only the United States and China and ranked ninth in total vehicle production. Many foreign-branded auto makers are producing vehicles in Rayong for Southeast Asia's growing middle class.
This is one of the estimated two-and-half million vehicles rolling off Thailand's assembly lines this year.
Ford's regional president, Matt Bradley, praised the country as a highly successful model for manufacturing.
"Thailand, I think, has made a concerted effort from government policy in the last 15 years to plan to support the automotive industry. Ford has been in Thailand about 17 years and just since 2007 we've invested over a billion dollars in our manufacturing and product cycle plant footprint in Thailand," he said.
The automotive sector is now Thailand's third largest industry comprising 12 percent of the country's GDP and employing 400-thousand workers.
Bangkok's clogged roads attest to the success - with sales accelerated by government tax rebates to first-time buyers.
But can these vehicles rival those made in Japan, Europe or the United States?
Honda executive vice president Pitak Pruittisarikorn said the Japanese automaker was making high quality vehicles here at a competitive cost.
"For Honda, cost efficiency is one of our key strategies. So we have established the good relationship with the strong and the highest quality parts suppliers, global suppliers and local suppliers," said Pitak.
Some automakers operating in Thailand import critical parts, including engines, from overseas.
However, GM Powertrain plant manager Jennifer Bigelow said the American automaker not only assembled its engines on site but also sourced their components in Thailand.
"It is definitely cost effective. We reduce shipping costs, we develop partners here that we can then work with and develop that partnership to help improve our engine and our product," said Bigelow.
Manufacturers must also tailor their vehicles to meet regional demand, designing components such as four-cylinder diesel engines, which take advantage of the widespread availability of affordable diesel fuel.
"The product engineering teams do extensive research in each of the markets in which we operate to make sure that we are developing a product that is suitable for not only the environment but also the driving habits of the markets in which we are selling vehicles to," said GM executive Michael Perez.
Thailand's dominant auto production industry, led by Toyota and other Japanese manufacturers, faces obstacles, even though it exports vehicles beyond Southeast Asia (ASEAN) to Japan, the Middle East and North America.
Expansion is hampered by a shortage of labor in a country with nearly full employment. That has led to opportunities for women, who comprise nearly one-third of the workforce at some Thai auto plants.
And when extensive flooding in 2011 shut down manufacturing plants and parts suppliers, upstart Indonesia briefly overtook Thailand in production, ushering in a rivalry certain to continue for many years to come.
Connect with The Crittenden Automotive Library