The End of the Shift
Opinions expressed by Bill Crittenden are not official policies or positions of The Crittenden Automotive Library. You can read more about the Library's goals, mission, policies, and operations on the About Us page.
The End of the Shift
Bill Crittenden
16 October 2016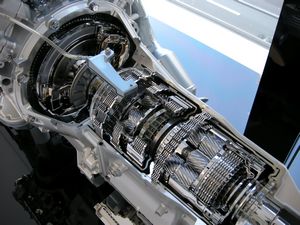 8-speed "Sport Direct Shift" 2008 Lexus IS F transmission
It's
being speculated that Ford
will join Chevrolet and Dodge in adding a manual transmission option to the high performance version of their pony cars. This comes less than a month after Ferrari announced that they probably won't make another manual transmission car again after the 599 and Lamborghini's head of R&D said that they are done with manuals as well.
Reports show that just 18% of American drivers can drive one of the approximately 5% of vehicles sold with a manual transmission nowadays on the American market. I'm sure that Ford discovered that there's a segment of buyers who want the ballsiest pony cars money can buy but can't drive a stick shift. Keeping those buyers out of Chevrolet and Dodge dealerships is probably why Ford will give in and go automatic, too.
First, Some Context
The gearbox is merely the latest in a long line of automotive systems that have been automated to the point where manual systems are at a distinct disadvantage, beginning with manual spark advance in the late 1800's/earliest 1900's. The manual choke has gone the way of the dinosaur and carburetors have been relegated exclusively to motorsports use. Remember pumping the brakes? That's been replaced by ABS systems that can mechanically "pump" the brakes faster than any human possibly can.
Usually these changes come about fairly quickly, but the automatic transmission dates all the way back to before the Second World War, and was adopted widely in first luxury and then regular family car applications by a public enthralled with the kind of push button automatic everything they saw at "World of Tomorrow" displays at World's Fairs. It was largely shunned by serious performance drivers because the old "slushboxes" were slow to shift, had fewer gear choices, were heavier, couldn't handle as much torque, and sapped power from the engine.
Manuals Became Automatics
While automatic transmissions are far from the same slushboxes of yesteryear, the manuals have had their own mechanical advances. Better shifters, synchros, five & six speed gearboxes, and hydraulic clutches have kept them relevant for three-quarters of a century after the automatic transmission debuted. The most recent and perhaps biggest advancement, however, was to take the "manual" out of the gearbox with "semi-automatic" units.
Mechanically, the semi-automatic or clutchless manual transmission is similar to a manual gearbox but the clutch and gear shifts are handled by mechanical servos that can handle the tasks (much like ABS brakes) quicker than any human can. You can decide when to make the shift by paddles on the steering wheel, but it doesn't have the
feel
of a fully manual gearbox.
Basically, it's morphed into a mechanically different type of automatic transmission.
Why would they do this? Technology always has room to improve, but human capability has limits. Aside from straightforward shifting speed, late last month Maurizio Reggiani, Director of Research and Development at Lamborghini, said that Lamborghini is done with manual transmissions for chassis control reasons. He said, "All the systems that are integrated in the car need to have a dialog with one another. The clutch is one of the fuses of the system, whether you're engaging or disengaging the torque. This creates a hole in the communication between what the engine is able to provide and how the car reacts to the power of the engine. For this reason, unfortunately, I must say I am sure that in a premium supersports car like [the Huracán], we will only do a semiautomatic."
So as long as manual transmissions rely on the human component, they're now at a disadvantage in purely performance terms and are destined only to fall further behind.
Well, that takes care of the high end Italian supercars. Those semi-automatic transmissions are pretty expensive, though. What about humble American pony cars from Ford and Chevrolet that sell for a fraction of the price?
Old School Automatics Plus 75 Years of Technology
Automatics have steadily narrowed the gap to manuals in the three-quarters of a century since their introduction. Overdrive, lockup torque converters, electronic controls, faster shift speeds, better power efficiency, and now 9- and 10-speed transmissions have finally brought automatics "up to speed" with the manuals.
A few years before even the new 10-speed transmissions, automakers started adding manual shifting options to automatics. You could put it in drive, or you could put it in a gear select mode and tell the transmission when to shift. Mechanically it's very different from the semi-automatic gearbox it's meant to mimic, but from the perspective of a driver not mechanically educated, the difference isn't visible.
All of its technical advancements have slowly eaten away at the manual transmission's performance advantage to the point where rowing through the gears in traffic is not worth the hassle for a lot of drivers, especially the 49-year old (2015's average buyer age) who can afford a brand new Mustang.
Even if it takes another generation of automatic transmission development, or maybe the adoption of a lower cost semi-automatic, technology will reach the point where a manual gearbox is a distinct disadvantage to performance. At that point, Ford will have to adapt the top-of-the-line Mustangs or lose credibility as a real performance machine. Manual gearboxes might stick around as an option for another generation or two for the nostalgic buyers, but once it no longer becomes financially viable to offer them, they'll be gone.
They Can't Take Back All the Old Manual Gearboxes
Remember, these cars aren't built for Facebook likes and the adoration of teenagers who can't afford a better Ford than a used Fiesta. They're built to be sold to the people who can afford them. That's how manuals shrank to the mere 5% sales they're at today. No matter how many gearheads plead to the automakers via Jalopnik's message boards to make more manual shift cars, building a ton of cars that nobody wants to buy isn't a successful business model.
Sure, it's sad. Of all of the systems that have been replaced over the years, none have involved such constant and direct contact with the driver as the manual shifter. Only the steering wheel and pedals offer the same sort of visceral feel of driver controlling machine, and to make the right arm redundant to the left on the wheel is a loss for performance driving, especially if how you feel is more important to you than time slips.
But don't worry. If mechanical feeling is what you want, you probably already hate modern drive-by-wire steering and accelerator pedals anyway. Just let this losing battle over new cars go, and quit bitching over Facebook about cars you couldn't afford anyway. You're not going to fight a multi billion dollar industry with rage tweets. Your experience in Forza Horizon does not make you a greater expert on supercars than the head of R&D at Lamborghini. Just chill. Let technological advancement take its course on supercars and weekday commuting, and save up for an old Chevelle or Miata or Supra to thrash on the weekends. You'll have a lot less stress that way, and so will everybody else that reads on the internet.
Connect with The Crittenden Automotive Library