Rare Ride Promotes Women Rights in Pakistan
Rare Ride Promotes Women Rights in Pakistan
Ayaz Gul, VOA News
9 May 2017 (10:23AM)



Download Rare Ride To Promote Women Rights in Pakistan in MP4 format - 35.3MB - 1:19
Pakistani sportswoman, Guliafshan Tariq, is traveling on her motorbike across the country's northwestern mountainous Khyber Pakhtunkhaw province to promote women's empowerment and rights in a male-dominated Pakistani society and to spread a message of peace. Ayaz Gul reports from Islamabad. (9:59AM)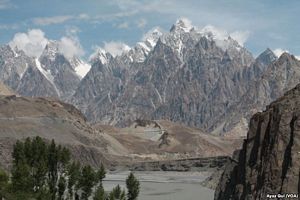 FILE - View from Gulmit village in Upper Hunza on the way to Khunjerab Pass
ISLAMABAD, PAKISTAN — Pakistani sportswoman Guliafshan Tariq is traveling on her motorbike across the country's northwestern mountainous Khyber Pakhtunkhaw province to promote women's empowerment and rights in a male-dominated Pakistani society and to spread a message of peace.
A trained mixed marshal arts fighter, a cyclist, social activist, peace activist, and human rights campaigner, Tariq hails from the central Pakistani town of Jhawerian.
In 2015, the young athlete undertook a 9 1/2-day ride on her bicycle to the Khunjerab Pass, the border between Pakistan and China at an altitude of nearly 5,000 meters, to become the first Pakistani female to achieve the milestone.
The latest motorbike mission, she said, is to highlight "the soft image of Pakistan" and further her campaign of promoting women's education, tourism and peace in a region that until recently was in the grip of Islamic militancy.
"Sports are best way to break all barriers," Tariq said.
World-wide message
She explained her 1,500-kilometer journey will be over in 22 days, during which she will briefly stop at popular tourist destinations, including the scenic valley of Chitral. These areas used to be frequented by foreigners but security concerns lately have discouraged them from visiting.
"You know, being a woman in Pakistan, being Muslim Pakistani girl, I am attempting this solo ride so it will give a message around the globe that it's a safer place to visit," said Tariq.
Like many other Pakistani athletes, she also complained that a lack of patronage from relevant government institutions discourages young men and women from embarking on similar missions. However, Tariq said, unexpectedly the national tourism department has partially funded her latest trip.
"It is really hard to get any sponsorship in Pakistan," she said. "It is my self-initiative to promote this peace, women empowerment, women in sports and the message around the globe that Pakistan is a peaceful place and you can visit here."
Connect with The Crittenden Automotive Library