2017 Mitsubishi Mirage G4: My Shortest Test Drive (Yet)
Topics: Mitsubishi Mirage
Opinions expressed by Bill Crittenden are not official policies or positions of The Crittenden Automotive Library. You can read more about the Library's goals, mission, policies, and operations on the About Us page.
2017 Mitsubishi Mirage G4: My Shortest Test Drive (Yet)
Bill Crittenden
4 September 2017

Last month my wife and I were at a Kia/Subaru/Mitsubishi dealership looking for some budget wheels with a solid warranty.

Not knowing much about Mitsubishis, the dealer mentioned that their warranty was as long as the Kia we were looking at. Well, why not take one for a spin around the block?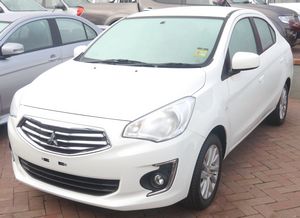 File photo of a 2015 Mirage LS sedan in Australia by TuRbO_J from Adelaide. (CC-BY-2.0)
At first sight it wasn't bad looking, just a bit small. But then I noticed the driver door lock, in a 90's style raised metal ring with a streak of corrosion underneath it from being parked outside.
The interior was equally 1990's-era. Which isn't a bad thing, at the lower end of the budget spectrum the Nissan Versa sedan also feels straight out of the 1990's in materials and design.
Driving it wasn't a quick spin around the block as much as it was a slow spin around the parking lot. I couldn't get the damn thing moving. That was when the dealer mentioned the 1.0L 3-cylinder engine.
Aaaaaand back to the parking spot.
It wasn't a "bad car," per se. Mitsubishi builds solid, decently reliable cars. Like Hyundai, they would lose their shirts if they sold cars that didn't, on the average, last the length of the long warranties they offer.
It was just dismally underpowered (78 horsepower) and surprisingly expensive. I thought it'd be an okay car for something sub-$10K, $8,000 would have been a better price but I know it's been years since a new car has been sold for that in our market. Probably the 90's era this Mitsubishi feels like it was from. I knew it wasn't going to be that cheap because I vaguely remember finding out that the Nissan Versa sedan was the cheapest car on the U.S. market at the moment. I was not prepared to see that one we drove was a little over $15,400!
This was for the version with the CVT transmission. The cheapest Mirage, an ES manual hatchback, costs $12,995. The cheapest Mirage G4 sedan is $13,995.
Whether or not the Mitsubishi is a decent deal depends on whether or not you absolutely have to have a hatchback's cargo space or if you could drive a sedan.
Here are the alternatives...
The
Chevrolet Spark
hatchback costs $13,000 and offers a 98 horsepower engine, a more extensive network of dealerships, but a lesser industry-standard warranty.
If you're okay with a sedan, and we were looking for a sedan, the
Nissan Versa sedan
blows the Mirage G4 away at $11,990 base price with an equally 90's interior but more headroom and a 108 horsepower 1.6L 4-cylinder. The downside is the lesser warranty coverage.
The
Nissan Versa Note hatchback
, oddly, costs a whopping $15,480 for some odd reason having to do with it being an entirely different vehicle despite sharing the Versa name.
If a 100,000 powertrain warranty absolutely, positively matters, and it does to me, I highly recommend the 138 horsepower
Kia Rio
at $14,165 sedan/$15,495 hatchback. It's a little more money when comparing hatchback-to-hatchback, $2,500, but it feels like twice the car with vastly more power and a more modern exterior and interior. The sedan-to-sedan price difference is $170, and at that price the only reason I can think of
not
to pick the Rio over the Mirage G4 is that you don't have a Kia dealership in your state. If you don't absolutely need the Mirage hatchback's 47 cubic feet of open space with the rear seats down, it'll only be $1,170 to switch from Mirage hatchback to Rio sedan.
Being outclassed in power doesn't come without one perk: it claims the bragging rights of having the best EPA fuel economy rating for a non-hybrid vehicle at 35/42 for the CVT version, and 33/40 for the manual comes in behind only the diesel Chevy Cruze or the far more expensive gasoline options of the Honda Fit hatchback & Civic sedan with automatic transmissions.
But with the time it takes to get up to speed, patience had better be one of your top virtues. Car and Driver tested the 0-60 of the G4 at 12.8 seconds, "a longer time than any passenger vehicle we've tested in many years." If you're going to make the best of that efficiency you'd better leave early or you're going to spend your commutes planting the gas pedal to the floor and ruining the ratings for both your fuel efficiency and your blood pressure. That makes the fuel economy a great selling point on paper, but hardly a real-world advantage.
The Mitsubishi Mirage is a solid, efficient vehicle taken on its own merits in either form, but the G4 sedan I test drove is simply beaten in every way but warranty & efficiency by the Versa and absolutely blown away by the Kia Rio.
So did we buy the Rio sedan? No, we test drove one and I really liked it, but Heidi said I looked a little cramped in it and for reasons of headroom we stretched just a little and bought a Kia Soul because it has an enormous amount of headroom and space for the price. Those have a $16,100 base MSRP with a manual transmission, the same 138 horsepower engine as the Rio, and we get between 34-36 miles per gallon depending on who's driving it in case you want to compare it to the vehicles mentioned above.
Why the strange obsession with headroom? I'm 6'2" with a longer than average torso for the height, and our son is expected to be even taller when he's old enough to drive. You can read about the emotional trade-in in the latest edition of Tail Lights and more on our new Kia Soul coming soon!
Connect with The Crittenden Automotive Library