'Journey to the Maid of the Mist': Immigrants and the Great American Road Trip
'Journey to the Maid of the Mist': Immigrants and the Great American Road Trip
Ramon Taylor, VOA News
3 September 2017 (6:00AM)



Download 'Journey to the Maid of the Mist': Immigrants and the Great American Road Trip in MP4 format - 53.1MB - 2:07
In 2017, nearly 4 out of 5 American families planned a road trip vacation, a U.S. tradition that spans generations and cultures. While often overlooked from the narrative, newer immigrant families take pride in this pastime — one that celebrates the family unit and exploration of the great outdoors. VOA immigration reporter Ramon Taylor takes us to one of the most scenic road trip destinations in the country, Niagara Falls State Park. (2:47AM)

The South Asian American Digital Archive has embarked on an ambitious journey: collect the stories and photographs of South Asian-American road trips from all 50 states.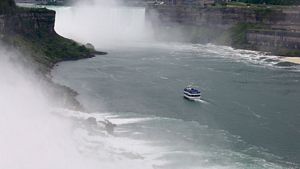 A 'Maid of the Mist' vessel sails past the American and Bridal Veil Falls, toward Horseshoe Falls, where poncho-suited tourists are often soaked by a thick mist. (R. Taylor/VOA)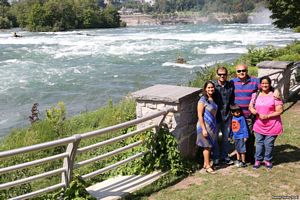 Vikas and Madhavi Vijay drove from Cleveland, Ohio, to Niagara Falls State Park to show their son and visiting parents "the pressure of the waterfalls" and experience the 'Maid of the Mist' boat ride. (R. Taylor/VOA)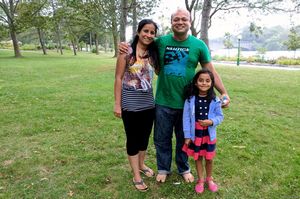 Charlotte, North Carolina, resident Avinash Tilocani with his wife and daughter in Niagara Falls State Park. (R. Taylor/VOA)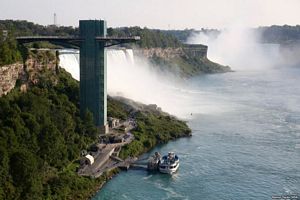 The Niagara Falls, New York observation tower provides a stunning view of the American, Bridal and Horseshoe Falls above the Niagara Gorge. (R. Taylor/VOA)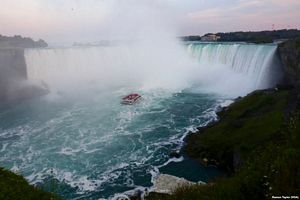 A Hornblower Niagara Cruise ventures into the mist of Horseshoe Falls, where more than 680,000 gallons of water flow per second. (R. Taylor/VOA)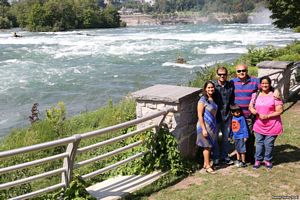 Vikas and Madhavi Vijay drove from Cleveland, Ohio, to Niagara Falls State Park to show their son and visiting parents "the pressure of the waterfalls" and experience the 'Maid of the Mist' boat ride. (R. Taylor/VOA)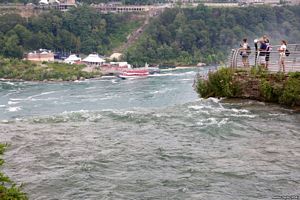 Tourists stand between the Bridal Veil and American Falls on Luna Island, Niagara Falls, New York. (R. Taylor/VOA)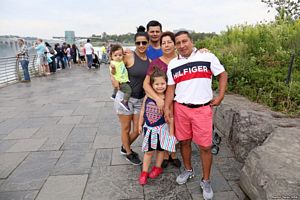 Guatemalan-native Victor Manuel, right, with his wife and friends from Ecuador, drove to Niagara Falls from Queens, New York. "We want our youth to know the good and beauty of sharing traditions with family," Manuel said. (R. Taylor/VOA)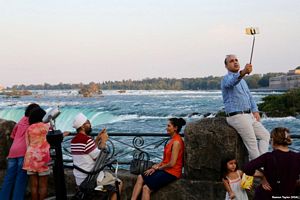 International tourists pose beside Horseshoe Falls in Niagara Falls, Ontario. (R. Taylor/VOA)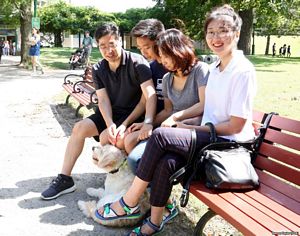 Soohyun Kim, a Columbia University student from South Korea, traveled to Niagara Falls from New Jersey with her aunt, uncle, cousin, and their dog, Noodle. "I'm very used to seeing the countryside, because even when I was in Korea, I would see the countryside a lot," Kim said.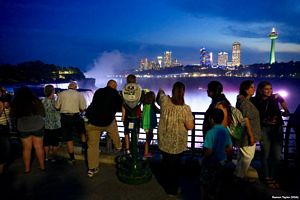 A magenta-illuminated Niagara Falls brightens the night sky. (R. Taylor/VOA)
NIAGARA FALLS, NEW YORK — Approaching dusk, a Vietnamese family of 12 from Pennsylvania scrambles to move from their two minivans in Parking Lot 1 to the America's Niagara Falls before nightfall.
Dipendra Chhantyal, the dad in charge of family operations, is frantic. "Which way to the falls?" he said.
"One-two-three-four ..." he counts heads; two boys in matching Gap tees, three infants in strollers. His in-laws stick together as he orchestrates a family portrait with a stranger. Then onward to America's oldest state park.
"It was a long drive," he said, exasperated. "The elders, they are new to the country right now, so [I'm] just trying to make them spend some quality time."
Niagara Falls State Park
, western New York's showcase for 8 million annual visitors, was an obvious destination for the Chhantyals. It's less than a day's drive to the U.S.-Canadian border, complete with a free display of illuminated falls and fireworks, and an adventurous 'Maid of the Mist' boat ride, where families soak up the mist beside
Horseshoe Falls' 2,509 thunderous tons of force
.
Like
79 percent of American household vacations
, the trailblazing dozen took the open road to reach their destination — an afternoon of cramped quarters and one failed engine along the Appalachian-backdrop interstate, set to the reverberating vocals of Katy Perry and Bruno Mars.
But like explorers that came centuries before them, the story of how they got there is ultimately one that will remain integral to the adventure, and a lasting memory.
American tradition, re-imagined
"The road trip is so much a part of the American ethos and the way that we imagine ourselves," explained Samip Malick, executive director of the South Asian American Digital Archive (SAADA) — "the ability to sort of get on the road and drive for hours and hours across the country."
Malick, whose parents immigrated to the U.S. from India in the late 1960s, tells VOA that a "bubbling of xenophobic rhetoric and actions in the country" combined with a lack of South Asian-American stories present in both textbooks and popular media, has resulted in an oft-overlooked and misrepresented community.
In response, SAADA embarked on an ambitious crowd-sourced journey of its own, "
Road Trips Project: Reimagining an American Tradition
," a collection of South Asian-American road trip stories and photographs from all 50 U.S. states — told in their words, through their lens.
But aside from the cultural flavor of participants' stories from Niagara Falls to the Grand Canyon and across the national landscape, what makes the project remarkable to Malick is just how commonplace they often are.
"Anyone who would view the stories would find ways that they would connect with them," he said. "These are American stories just like any other."
Chain restaurant haven
In Niagara Falls, New York, the drive market accounts for the "meat and potatoes" of visits from across a roughly 800 kilometer radius, according to Angela Berti, public affairs director of NY State Parks-Niagara Region.
Many arrive by busloads, including large multigeneration contingents of Chinese and Indian-native tourists, sometimes for just the night.
"Immigrants that have come, they bring their family members," Berti said. "There are days when I can go out to one of the vistas in the park and not hear English being spoken. And it's fabulous."
Beside the park, Indian-owned restaurants have blossomed to meet the demand among South Asian diaspora families and international tourists. But along rural highways, the general lack thereof has proved a challenge for some.
Madhavi Vijay, who drove from Ohio with her husband, son and visiting parents from India, appreciates the greenery of New York's countryside — "a jungle on both sides" of the road, as she describes it. But at mealtime, she has difficulty finding culturally suitable options for her parents.
"They are vegetarian," Vijay explained, "so it's difficult to find a completely vegetarian restaurant, as well as a typical Indian restaurant."
Others, like Pune, Western India-native Avinash Tilocani, who drove from North Carolina with his wife, daughter and sister-in-law, says the mostly chain-restaurant options — featuring the likes of burgers, subs, chicken wings and pizza — are part of what make a trip fun.
"I would prefer any day going to either Cheesecake Factory or Olive Garden or even, for that matter, Chipotle," Tilocani said, smiling. Seated barefoot beside his daughter in a leafy park by the rapids, he is completely at peace. "Wherever you go, you should be happy."
Lots of 'Frozen' songs
Tilocani, a solutions developer, quickly calculates how the price point for a family of four made for an easy decision to pack the car instead of flying. But as a former Californian and avid road tripper along the Golden Coast and I-5, he derives pleasure from driving through the countryside.
"I came across a very small town, and we just stopped for gas, and still you can see how the old downtown is," he recalled. "You see a couple of farms, silos around … you see some animals…"
In their car, Tilocani's 7-year-old daughter, Nia — in charge of music — plays and sings "a lot of Natasha Bedingfield … lots of Frozen songs, lots of Zootopia songs," and some Bollywood hits, too. To keep busy, they play guessing games, "I spy," and Monopoly in the backseat.
Though Tilocani doesn't always get to participate while behind the wheel, he gets the driver's seat view, which keeps things interesting even in the most barren circumstances.
"A couple of miles ahead, a couple of miles down there is nothing. It's just your car, so it's a bit scary," he said.
But seeing small towns for the first time — where one can witness "what people go through and how well they are connected" — is what defines America for Tilocani. Often, it reminds him of his hometown.
"People are happy, they welcome you," he said. "It's very hard to believe, but I feel at home. I feel a lot at home."
VOA's Esha Sarai contributed to this report.
Connect with The Crittenden Automotive Library