Patrick Sheltra Gets Rocked At Rockingham Speedway
Patrick Sheltra Gets Rocked At Rockingham Speedway
Chris Knight
Sheltra Motorsports
October 12, 2009
"Mid-Race Incident Yields Disappointing Finish In ARCA Finale"
ROCKINGHAM, North Carolina (October 12, 2009) - - Garnishing a lot of attention with his pink No. 60 Buffalo Wings & Rings-Kimmie Cares Toyota Camry at Rockingham Speedway, Patrick Sheltra and his Sheltra Motorsports team had high hopes for Sunday's ARCA RE/MAX American 200 but a mid race incident with another driver forced an early exit and a disappointing 38th place finish in the final event of the 2009 ARCA RE/MAX Series season.
While the first race at Rockingham Speedway this season was by all accounts a success, the second – well, is one the team would like to forget about.
Bringing back a Toyota Camry as its primary manufacturer for the season finale, the veteran Kentucky based team believed they would have a contending car for the 21st race of the year but as soon as practice was concluded the team knew they would have a tough rock to climb.
After posting the 25th fastest lap in practice, the team surveyed the radiator which had an irreparable hole forcing the team to make the parts change. Unfortunately, the change would be costly as Sheltra would be forced to forgive his ARCA RE/MAX Series qualifying effort in place of the new radiator.
With no qualifying time, Sheltra would line up 33rd, taking a provisional for the first time in his ARCA RE/MAX Series career.
A great effort by the Sheltra Motorsports team had the radiator replaced by Sunday morning and with the pre-race checklist complete, the team was ready to roll.
From the drop of the green flag, Sheltra's pink camouflage Toyota Camry began maneuvering through the field. Despite turning some very fast lap times, Sheltra would have to battle the 72 lap green flag run which allowed the leaders to eventually catch the Grace Sheltra owned machine and take them from the lead circuit.
The caution flag would waive several laps later with Sheltra just one position shy of the Aaron's Lucky Dog. Now, the first go one lap down, Sheltra brought his Japanese nameplate to the attention of his Sheltra Motorsports crew where they bolted on four tires, added fuel and made a chassis adjustment.
On the restart, Sheltra maintained his position as the lucky dog machine but as Sheltra was racing in a group of cars, contact from the No. 11 sent Sheltra's pink machine into the wall. The damage was deemed too severe to continue with Sheltra being forced to exit the race just 115 laps into the denouement.
"It was definitely a disappointing way to end the season," said a dejected Sheltra. "I'm not sure what happened. I know I was in a big group of cars and I felt like I got hit from behind. It's just one of those racing deals. We had a special paint scheme here this weekend to help bring attentiveness to Breast Cancer Awareness Month while remembering our special friend Eliza Ranieri. I'm sorry we couldn't have a better finish but I hope we brought some recognition to the cause."
With the finish, Sheltra slipped from eighth to ninth in the overall ARCA RE/MAX Series point standings just 10 points behind Tom Hessert III. The 2009 ARCA RE/MAX Series season however marks the third consecutive year that Sheltra has finished inside the top-10 in the championship chase.
Next up for the ARCA RE/MAX Series is the 2009 Championship Awards Banquet set for Saturday, December 5, 2009 at the Northern Kentucky Convention Center in Covington, Kentucky. The teams will then have to prepare for a three-day test at Daytona International Speedway from December 18-20 to prepare for the 2010 season opener in February.
Exiting Rockingham, Sheltra has 67 ARCA RE/MAX Series starts to his credit with one career victory at Salem Speedway (April 2009). During his ARCA tenure, Sheltra has accumulated 10 top-fives and posted 22 top-10 finishes. A third place qualifying effort at Rockingham Speedway (April 2009) is Sheltra's best time trials efforts to date. He has controlled the ARCA field five times for 109 laps.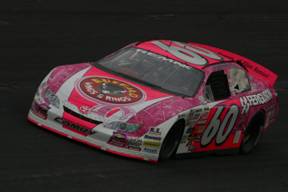 For more on Patrick Sheltra, the Sheltra Motorsports team and marketing partnership opportunities please visit PatrickSheltra.com.
For additional input on Buffalo Wings & Rings, please connect to Buffalowingsandrings.com or call 513.831.WING.
About Sheltra Motorsports:
Sheltra Motorsports (sheltramotorsports.com) is a three-tier Motorsports operation consisting of dirt and asphalt competition. Patrick Sheltra, a 23-year old native of Indiantown, Florida competes in the UMP and WoO (Dirt) Series; while also running a full schedule in the ARCA RE/MAX Series (No. 60) and a limited schedule in the NASCAR Nationwide Series. Sheltra Motorsports ownership is combined of Richard, Grace and Patrick Sheltra. The team is headquartered in Indiantown , Florida with additional operations in Richmond , Indiana and Whitesville , Kentucky .
About Buffalo Wings & Rings:
Buffalo Wings & Rings is the fastest-growing privately owned franchised chain of restaurants in the nation serving Buffalo-style chicken wings, onion rings, burgers, chicken and salads. Founded in 1988 in Cincinnati, OH, Buffalo Wings & Rings operates 49 franchised restaurants in the United States. Buffalo Wings & Rings was ranked the #1 fastest growing restaurant chain nationwide in the July 2008 issue of Restaurant Business, and ranked in the top 500 franchises in the January 2009 issue of Entrepreneur. For more information, visit www.buffalowingsandrings.com or call 513-831-WING.
###
TEAM COMMUNICATIONS CONTACT:
NAME: Chris Knight, Sheltra Motorsports
PHONE: 239.834.9797 or 239.214.1083
EMAIL: chris@patricksheltra.com
Connect with The Crittenden Automotive Library