---

Wheel People is published by Jim Koscs / AudaMotive Communications, which provides expert marketing/PR/speech writing and custom editorial (including e-newsletters) for automotive brands.
---
Please use this link to forward Wheel People to a colleague or friend.
---



Because she so treasures the long-distance vacations taken with husband Tony in their 1969 Dodge Dart GT Sport (GTS) convertible, Sharon Peacock insists that he not tinker with the car in the three weeks before a trip. "She wants to make sure I don't start something that I might not finish in time," Tony Peacock said.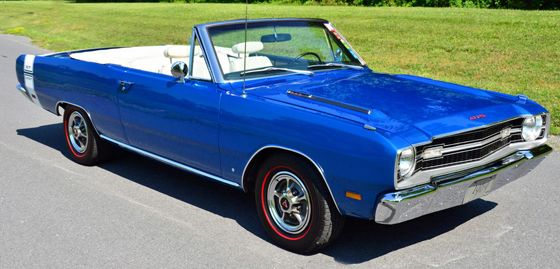 Peacock spent 30 years building Chrysler, Dodge and Plymouth vehicles at Chrysler's Newark, Delaware assembly plant, which closed in 2008. Around the time the carmaker selected the facility to build the 1997 Dodge Durango sport-utility vehicle, he'd picked up the Dart convertible. "Some assembly was required," Peacock said, explaining that many of the car's major parts were in boxes. His hobby of enjoying the Dart would begin with the hobby of rebuilding it.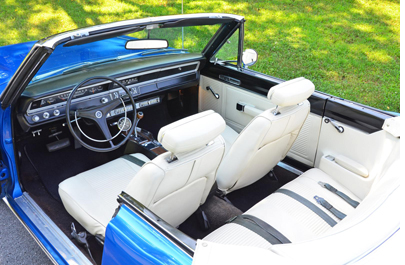 The Dart was a real find, though, one of about 500 1968-1969 GTS convertibles built that were equipped with the high-performance 340 cubic-inch V8 engine with 275 horsepower. That was a fraction of the 350,000 or so Darts built in those two years. Most buyers bought the regular versions of the compact sedan and coupe models for their value, economy and reliability.

Peacock knew he'd found a keeper by the car's relative rarity, and because it was a well-optioned example, including original air conditioning, automatic transmission, bucket seats, console with pivoting tachometer, AM/FM radio, power steering, power brakes, the light package, and a "deluxe" steering wheel.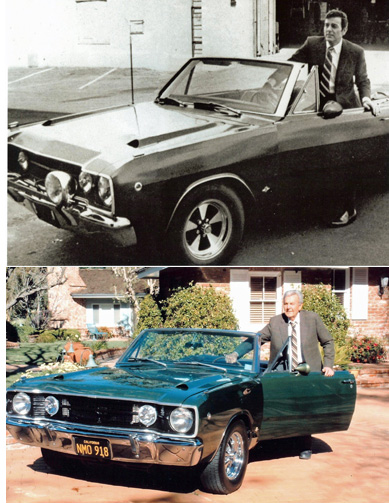 Though hardly a sales success, the Dart GTS found some fame in its role on TV's "Mannix" series. Tough-guy private eye Joe Mannix, played by Mike Connors, drove a Dart GTS convertible that was lightly modified for the show (photos, right, in 1968 and today) by famous car customizer George Barris. Two were made for the 1968 and 1969 seasons. The restored 1968 model is currently owned by automotive video producer and former Motor Trend magazine editor, C. Van Tune, but the 1969 model was wrecked.

Peacock's Dart GTS does not have the Motorola radio-phone that Mannix's car had -- and which cost about $1,600 a month to use in 1968 -- but it did come with a freshly rebuilt engine. The seller also threw in a new three-carburetor setup, known as the Six Pack. In the minus column, the Dart's quarter panels were rusted. A pair of new panels came with the deal.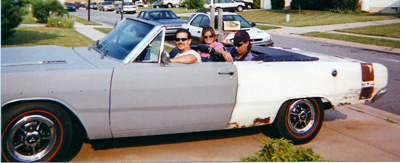 Peacock did the work needed to get the Dart back on the road, although it was far from a show-quality piece (photo, left). A few years later, with help from his brothers, Scott and Greg, he gave the Dart a full restoration. The process included finding and installing some of the GTS-specific body and trim parts that were missing from his car.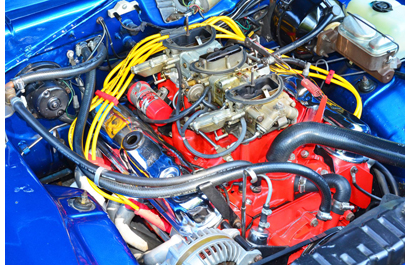 Restoring the Dart while sticking to a marriage-friendly budget had Peacock scouring Virginia salvage yards that specialize in Chrysler vehicles. Trips to the renowned car shows and swap meets in Carlisle, Penn. also yielded some gems, including the GTS hood with its raised ribs and engine-displacement badges.

Seeing the Dodge Durango prototype at the Newark Assembly plant for the first time inspired Peacock's color choice for the Dart: Intense Blue. His friend, John Tebbet, painted the Dart, but then a subsequent parking lot mishap necessitated a second painting. When he saw the sub-par spray job done by a famous franchise, Peacock bought a buffer and block sanding supplies, took lessons from a cousin at a body shop and spent three weeks fixing the paint.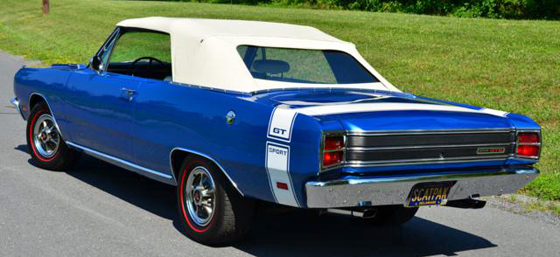 Tony and Sharon Peacock drive the Dart to Florida for the annual Turkey Run at Daytona International Speedway, and they also take it to major Chrysler car meets, including Chryslers at Carlisle and the Mopar Nationals ("the Nats") in Columbus, Ohio. The sporty convertible has won multiple trophies at both shows, but it's no trailer queen. Since buying the Dart, Peacock has put about 55,000 miles on it. "I wear out parts, so I have to stock up," he said.WP



Photo Credits


Blue Dart GTS: Cliff Gromer, editor, Mopar Action magazine. (A version of this story will appear in an upcoming issue.) "Mannix" Dart (color): C. Van Tune.

Unpainted Dart convertible courtesy of Tony Peacock

.

---
The Full Dart Story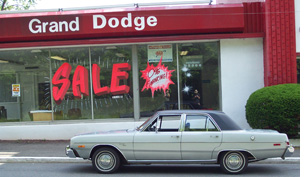 The New York Times published my retrospective on the Dodge Dart this past July. The story included comments from Dart owners and more details on the "Mannix Dart." Also featured was a 1975 Dart sedan owned by Scott Sigethy, whose grandfather bought the car new in Englewood, N.J. (Photo, Scott Sigethy.)