ISCARS Announces Plans for 2006
ISCARS Announces Plans for 2006
ISCARS Public Relations
February 11, 2006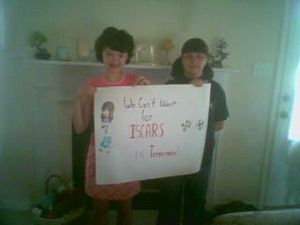 Teams and Fans alike are eager to see ISCARS return to action as shown here by Maria and Katya, two fans from Nashville, TN
DAYTONA BEACH FL - It has been one year since ISCARS (International Sport Compact Auto Racing Series) launched and stepped into place sanctioning the former Dash Series. After four races in 2005, the series is planning 8-10 events in 2006, along with a new television series called ISCARS Full Throttle – Sport Compact Power Half Hour.
Traditionally the season has kicked off during the annual Speedweeks in Daytona. This will be the second year in a row that the series is absent on the speedway schedule of events. The previous sanctioning body publically announced its withdrawal from the series in January 2005. Four weeks later the formation of ISCARS was formally announced to the media at Daytona International Speedway.
The series first scheduled event for 2006 will be at Hickory Motor Speedway on April 1st.
"We have made steady progress in the last year," says Randy Claypoole, President of ISCARS. "In the four events held in 2005 we saw a total of 26 teams compete, along with an explosion in fan interest"
Wade Day and his Highland Motorsports crew won two of the four events on their way to winning the Championship. Other race winners were Brandon Ward and Mike Watts.
Returning to the series in 2005 were former series' Champions Jake Hobgood, Cam Strader, Robert Huffman, and Johnny Chapman.
"Interest in the future of ISCARS has been steadily increasing. We hope to return to speedway events, but during this time of rebuilding we are content to be at short tracks," states Claypoole. For any racing series, the involvement of corporate sponsorship is necessary. "Television coverage will position our series and our teams to attract new sponsorship. We are close to signing with at least one network and once we have the show in place we will continue to expand coverage."
While ISCARS continues to build upon its traditional foundation featuring 6 cylinder Sport Compact Stock Cars, the series is also looking for alternatives that will be both economical and politically correct.
Claypoole says, "We have been researching alternatives that will produce an engine program that is more affordable than the current $30,000 price tag. This time of transitional development also places us in the perfect position to making a commitment to find a package that allows us to use alternative fuel. ISCARS feels it is important to follow President Bush's effort of using fuels that depend less on foreign oil along with being more friendly to the environment."
Connect with The Crittenden Automotive Library