ISCARS DASH Touring Returns to Hickory Motor Speedway
ISCARS DASH Touring Returns to Hickory Motor Speedway
ISACARS/Randy Claypoole
September 29, 2006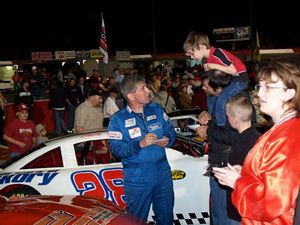 Last October Hickory Race Champion, Mike Watts, signs autographs
ISCARS Championship Points leader and previous Hickory winner, Eric Wilson prepares for ISCARS DASH Touring return to his home turf. Location: Hickory Motor Speedway, which is situated only a few minutes from his front door. Race Date: Saturday, October 7, 2006.
Defending race champion, Mike Watts, will no doubt be gunning to return to victory lane. Watts enjoyed the race win at Hickory last October.
ISCARS plans an exciting evening for the fans which includes the Pro Challenge Series, Pro 4, and the Southeast Mini-Cup cars highlighted by the ISCARS DASH Touring Firecracker "150". The evening will include a 10-lap shoot out between former series stand outs, Will Hobgood and Robert Huffman, culminated by a fantastic fireworks display.
The Pro Challenge and Pro 4 series are familiar to the Hickory area race fans. "I am excited with the changes we have made for the final three races of the 2006 points events in the Carolinas Division," said Jim Board, Regional Director for Pro Challenge Carolinas. "We have been aligning the 51 Designs Carolinas Series with multiple touring series that will provide our drivers exposure to the next step in their racing career. The Dash Series cars of ISCARS have a long history in motor sports, and we are happy to join them for two events at the end of this season."
This event will be the first visit to Hickory for the Southeast Mini-Cup cars. "The Southeast AMCS Mini-Cup race cars are honored and privileged to have this opportunity to run with the famous ISCARS Dash Series at the World Famous Hickory Motor Speedway in North Carolina," says Allen Mason, SE Regional Director of AMCS.
The Southeast AMCS Mini-Cup race car is 1/2 scale to the NASCAR Nextel Cup race cars. They are powered by 13 horsepower Honda engines producing 18-20 horsepower. They have coil-over shocks, full roll cage, 5-point harness belts, disc brakes front and rear, a full adjustable suspension, and are capable of speeds of 100 + mph. The bodies resemble the Chevy's, Fords, Dodge's, and soon will also feature Toyota.
ISCARS expects its largest car count to date with so many teams in the Hickory region. Along with Eric Wilson and Mike Watts, several other drivers will be close to home. Shelby's Scott Weaver, Newton's Ned Combs, Stoney Point's Johnny Chapman, and Cornelius driver Randy Humphrey.
"We really enjoy coming to Hickory and working with promoter Sherry Clifton," says Randy Claypoole, ISCARS President. "Sherry does a good job and those Hickory fans have always been supportive of the DASH Series. Fans can expect an exciting show as these talented drivers vie for this prestigious victory."
Also a highlight for the event will be the filming expertise of cameraman Woody Cain, as he collects footage and conducts interviews for the syndicated television show ISCARS Full Throttle, which is seen on over 150 stations in 48 states. ISCARS Full Throttle is also available on the world-wide web by logging onto iscarsonline.com and clicking on the top banner.
Connect with The Crittenden Automotive Library