Season Opener Produces Wild Finish
Season Opener Produces Wild Finish
ISCARS Public Relations
April 22, 2007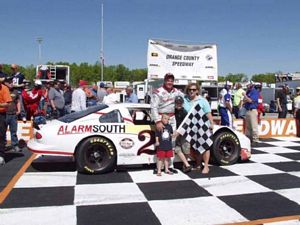 Johnny Chapman celebrates victory with his family
DASH Touring News from Orange County Speedway
The International Sport Compact Auto Racing Series (ISCARS) held its season opener at Orange County Speedway in Rougemont, NC on a pleasant Saturday afternoon this past weekend.
Johnny Chapman and Jake Hobgood are without a doubt becoming a hotly contested rivalry as the two tangle once again for an ISCARS DASH Touring win.
This event was ISCARS DASH Touring?s first event at OCS since 2002 when the series was sanctioned by NASCAR. The teams were very excited to be back at the fast oval, which has undergone some remodeling under the new ownership.
Some of the teams arrived Friday for an extra hour of practice in preparation for Saturday?s afternoon event. The ISCARS Officials prepared a BBQ for the teams to serve as a celebration of the new season. ISCARS also gave out trophies to the top ten drivers in the 2006 Championship points along with special awards for Rookie of the Year Joey Jones. ISCARS also had specially embroidered jackets to present to Jones and Champion Eric Wilson.
Jake Hobgood, of Winnsboro (SC) won the ISCARS Hottest Lap Award, presented by SHOWCALL. Hobgood?s fast lap was 14.884 seconds for an average speed of 90.701 mph. Johnny Chapman was second fastest in his ALARMSOUTH Mickey York prepared Pontiac Sunfire.
Hobgood stretched out an early lead, but slipped back a few spots after relinquishing the lead to Chapman on lap 24 of the 150 lap event. Racing in the middle of a hot afternoon caused the track to be loose. Lap speeds were down almost two miles an hour from when the series last visited OCS. The local divisions run a different tire brand, so it took a few laps of green flag racing for the Goodyear Racing Tire shod competitors to lay down fresh rubber.
Cornelius, NC driver, Randy Humphrey surged toward the front early on. After running consistently in third place, a smoke plume became visible from the rear of the car. ISCARS asked Humphrey to utilize the next caution period to check out the source of the leak. It turned out to be a leaking oil line, which the team repaired during the halfway break. Unfortunately, Humphrey lost a total of six laps, removing him from contention for the win. After returning to the event, he was able to run with the leaders.
During the latter stages of the event, Hobgood stayed in control of the lead. On long runs he was able to pull away from second place. On restarts and short runs, Chapman was able to mount a challenge. With just three laps to go, Chapman was given that chance when the caution flag waved for a spin involving rookie Brandon Burris.
On the restart, Hobgood rocketed into the first turn, with Chapman in hot pursuit. On the white flag lap Chapman made his move underneath Hobgood as they exited turn two. While Chapman cleanly moved his front bumper to the door panel of Hobgood, the two battled for real estate as they entered the backstretch. Whether Chapman leaned on Hobgood or Hobgood pinched down on Chapman is something only the two drivers can attest to, and each stands firm in their opinion. Hobgood?s car started to slide after the two cars touched. Hobgood showed incredible driving skill by keeping his car headed in the right direction as it tried to fishtail out of control. Bottomline, the two veteran drivers brought the fans to their feet.
Top Ten Finishers: Johnny Chapman, Danny Bagwell, Gary Young, Scott Krehling, Ned Combs, Joey Miller, Matt Johnson, Jake Hobgood, Brandon Burris, and Randy Humphrey.
Other Notes of Interest:
*Missing in Action was Scott Weaver from Shelby, NC. His father, Floyd Weaver passed away just a few days prior to the OCS event. ISCARS is planning a dedicated memorial for Floyd Weaver at the Hickory Motor Speedway event in June. All the ISCARS DASH Touring teams displayed a decal in memory of Mr. Weaver and intend to do so for the entire season.
*Brandon Burris and Gary Young made their first start in ISCARS DASH Touring competition. Sixteen year old Burris is son to Randy and Stacey Humphrey. This is the first father and son combination to race since Will Hobgood retired.
*Also absent was the 2006 ISCARS Champion, Eric Wilson. His wife?s grandfather passed away and Eric was also in Phoenix with Michael Waltrip racing. It appears that due to his job change, he will not be able to defend his Championship, although he hopes to make a couple of the races this season.
*ISCARS DASH Touring begins it?s second season on Goodyear Racing Tires.
*Next Race: Florence Motor Speedway in Timmonsville, SC on Saturday, June 2, 2007.
ISCARS WIDE OPEN TV begins airing its 2007 season on Saturday, May 4th. Check local listings.
Connect with The Crittenden Automotive Library