ShowCall to Sponsor Hottest Lap Award at Select Events for ISCARS
ShowCall to Sponsor Hottest Lap Award at Select Events for ISCARS
ISCARS Public Relations
April 25, 2007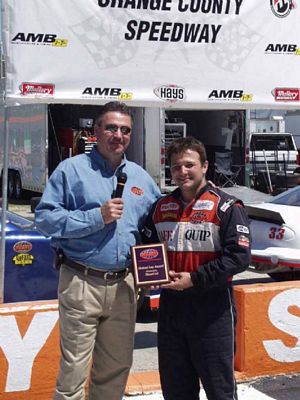 Jake Hobgood accepts the ISCARS Hottest Lap Award from ISCARS President Randy Claypoole
DAYTONA BEACH, FL - International Sport Compact Auto Racing Series, DASH Touring (ISCARS) announces that Showcall, a concert and special events stagehand labor company based in Maryville, TN has agreed to sponsor the ISCARS Hottest Lap Award for selected events in 2007. ISCARS presents the award to the fastest qualifier at every event.
Robbie Henry, owner and founder of Showcall, has followed the development of ISCARS and felt that the series and its drivers, teams and fans embodied the passion, pride and fellowship of a truly American sport, short track racing.
"The 2007 ISCARS season should provide fans with the type of competitive door to door action
they have come to expect from one of the pre-eminent grass roots touring series in the country and Showcall is proud to be a part of it", says Henry
The ISCARS Hottest Lap presented by Showcall Award was earned by Jake Hobgood at Orange County Speedway, Rougemont, NC on Saturday, April 21, 2007.
The next race for ISCARS is set for June 2, 2007 at Florence Motor Speedway in Timmonsville, SC.
Connect with The Crittenden Automotive Library