2006 Champ Wins at Hickory
2006 Champ Wins at Hickory
ISCARS Public Relations
July 2, 2007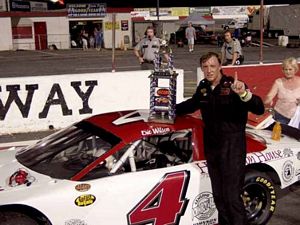 Wilson Number One at Hickory
Newton, NC - Hometown driver does it again. Eric Wilson, making his first start of the 2007 season returns triumphantly.
Joey Miller won the ISCARS Hottest Lap Award, presented by Showcall. Miller led the first 50 laps before losing the lead to a charging Wilson.
Wilson held off a late charge by Danny Bagwell to secure the top spot in the Floyd Weaver Memorial 150 at Hickory Motor Speedway.
Official Results ISCARS DASH Touring Championship Event
Hickory Motor Speedway, Saturday, June 30, 2007
Floyd Weaver Memorial "150"
Place, Name, Laps Completed, Points
1. Eric Wilson 150 180 (includes 5 bonus)
2. Danny Bagwell 170
3. Matt Johnson* 165
4. Randy Humphrey 160
5. Joey Miller 149 165 (10 bonus for Hottest Lap Award and leading a lap)
6. Ned Combs 150
7. Chris Chapman 146
8. Kevin Doebler* 147 142
9. Wally Leatherwood 145 138
10. Scott Krehling 140 134
11. Destry Gardner* 140 130
12. Brandon Burris* 138 127
13. Joey Jones 136 124
14. Scott Weaver 3 121
15. Gary Young DNS 118
Joey Miller wins the Hottest Lap Award, presented by Showcall
Matt Johnson wins the Tortillini Weather You Win or Not Rookie of the Race Award
Top 5 in points: 1. Danny Bagwell 340, 2. Joey Miller 315, 3. Matt Johnson 311, 4. Ned Combs 305, 5. Randy Humphrey and Scott Krehling tied with 294.
Next Race: New Senoia Raceway in Senoia, GA on Saturday, July 14, 2007
After review of scoring, a change in the finishing order resulted in Randy Humphrey being credited with fourth place moving Joey Miller and Ned Combs to fifth and sixth place respectively. Miller was passed by the leaders on lap 128 and Combs on lap 121. Humphrey was running on the lead lap when he was caught in an accident on lap 140. All of the cars involved were scored for lap 140 since the accident happened beyond the start/finish line. Humphrey was able to get his car rolling prior to being passed by the leaders. He was however inadvertently held by the pace car on the backstretch due to the red flag being displayed and thus passed by the leaders during realignment of the field according to the running order. Therefore he was not able to catch up to the field and subsequently was not scored properly for completing lap 141. Under ISCARS rules, the field is frozen when a caution is displayed. Any car involved in a spin or accident is able to blend into the field, without losing a lap, if they are able to get the car rolling ahead of the race leader. Had Humphrey been allowed to do so, he would not have lost a lap. At that juncture in the race, only four cars were on the lead lap, so he should have rejoined the field at the tail end of the lead lap. ISCARS improperly placed him behind the lapped cars of Miller and Combs for the remaining laps of the event.
Connect with The Crittenden Automotive Library