Jake Hobgood Entry Disqualified for Infraction
Jake Hobgood Entry Disqualified for Infraction
ISCARS Public Relations
August 21, 2007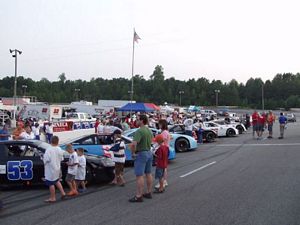 Fans gather for the pre-race autograph session at Florence Motor Speedway
International Sport Compact Auto Racing Series (ISCARS) DASH Touring announces today that Jake Hobgood, of Winnsboro (SC) has been disqualified from both wins at the ISCARS Double-Header held at Florence Motor Speedway on Saturday, August 18th.
ISCARS Officials invoked a post race tear down of the engine on the 64 car following the second event. It was found that an illegal modification had been made to the intake. After further review of the data, ISCARS Vice President of Competition, Robert Black determined the result to be complete disqualification of both wins. Hobgood was informed of the decision during a conference call on Monday, August 27th.
?In the interest of fair competition, it is our determination that this was a serious infraction,? says Black. ?The best way for us to get the message across to all of our teams is to be tough. With this decision, we are setting a precedent that any violation at this level will bring disqualification. And, we will continue to exercise our right to thoroughly inspect the cars so that everyone has a fair opportunity to win.?
The more than a week delay in making the announcement was a result of the time involved in sending off a fuel sample for testing. After further delay, it was determined that the infraction with the intake was reason enough for the disqualification to be enforced.
The change in the finishing order results in 2006 ISCARS Champion Eric Wilson being declared the winner of Race 1 and Danny Bagwell the winner of Race 2. A complete rundown is available at iscarsonline.com.
Upcoming events are scheduled for Dillon Motor Speedway on Saturday, September 8, 2007; Orange County Speedway on Saturday, September 15; Hickory Motor Speedway on Saturday, October 6; and a season finale to be held at Tri-County Motor Speedway near the end of October.
Connect with The Crittenden Automotive Library