2008 Schedule Taking Shape
2008 Schedule Taking Shape
ISCARS Public Relations
December 19, 2007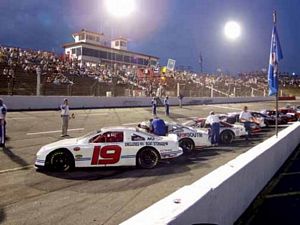 ISCARS DASH Touring cars starting grid
DAYTONA BEACH, FL - To date we have fourteen (14) events now confirmed for 2008, with the intention of confirming three more tracks.
For three of the events we will use the Twin 75's format with a hour or so break in between to make adjustments. Last year we successfully held the first such two-race format at Florence Motor Speedway. It offers a chance to gain points for two events while only having to spend one day at the same track.
Still up in the air are plans for finalizing the Series Championship for 2007. ISCARS postponed a race scheduled for October at Tri-County Speedway due to contract arrangements that were difficult to finalize.
Tri-County Speedway has scheduled three events with ISCARS for 2008.
Cooler weather is upon us along with the holdiays. ISCARS has communicated this concern to all the teams as we work on where and when to hold a final event. Florida is certainly an option, but the cost of travel necessitates a larger purse. ISCARS is talking to several potential sponsors to see what can be arranged.
Danny Bagwell leads the points and Joey Miller has a mathematical chance to overtake him. Both drivers would like to settle it on the track. In addition, there is the Rookie of the Year honors that come into play with two drivers vying for that title.
In the meantime, ISCARS is working to finalize plans for next season in order to give teams enough leeway in seeking sponsorship for their racing program.
For the list of nine events, note the schedule section on the home page of our website.
Connect with The Crittenden Automotive Library