ISCARS DASH Touring Has Georgia on its Mind
ISCARS DASH Touring Has Georgia on its Mind
Devon Holder/ISCARS PR
August 4, 2008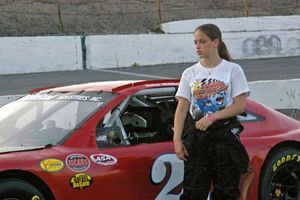 Rookie Points leader Chelsea Schillig
New Senoia Speedway
SENOIA, GA - International Sport Compact Auto Racing Series (ISCARS) DASH Touring, Sanctioned by American Speed Association (ASA) converges at New Senoia Speedway Saturday, August 9th for a Double Header event.
With the economy stretching everyone's pocket book to the limit, ISCARS has decided to run two races at each of the remaining events on the 2008 calendar.
"All of our teams are talking about how tight things are for them," says Randy Claypoole, President of ISCARS. "We want to race, they want to race, but everyone's budgets are feeling the pain, mostly from the gas/diesel pump. So, beginning with this weekend's event we have six more races on our schedule. The teams travel to one track and have two races instead of one. We call them Twin 75's."
The format makes it nice for the fans and the teams too. With local divisions running their events book ended by two DASH Touring events it keeps the action rolling. And teams have at least an hour and a half in between each race to make adjustments. Earlier this year, 2006 ISCARS Champ Eric Wilson damaged his car in the first race. With this format, they had the time to replace both front spindles in time to start the second race. And, the car was competitive. Two weeks ago, Rookie contender Chelsea Shillig lost third gear. Her crew repaired the problem and she was back on the track ready to go.
The season has five races in the books. Joey Miller won the first race of the season at Florence Motor Speedway. Since then, it has been 2007 Champ Danny Bagwell showing the way. Bagwell became the fifth driver in DASH history to win four in a row. The list includes Robert Huffman ('98), Mike Swaim Jr. ('97), Dean Combs ('76,'81) and Larry Hoopaugh ('82). Each went on to win the Championship. All-time DASH Winner is Dean Combs with 60 wins. Combs is the only driver to win six races in a row.
There are several drivers determined to interrupt Bagwell's winning streak. Joey Jones took $300 from his purse win at Franklin County Speedway and posted it as a Bounty to any driver or car owner who can get to the checkered flag before Bagwell.
It hasn't been a cake walk for Bagwell. Justin Hobgood has been all over Bagwell's rear bumper this year. Hobgood has also competed in the NASCAR Craftsman Truck and NASCAR Nationwide Series this year. Yet proclaims he is having so much fun running in the DASH races. Miller missed the races at Franklin County, but he certainly as a car capable of giving Bagwell grief. Rookie driver, Brad Queen was enjoying a convincing lead in the second race at Franklin County until his steering gave up. "I was really enjoying being out in front," said Queen. "Then all of a sudden the power steering broke."
ISCARS DASH Touring Twin 75's is presented by Metro Tech Mortgages Saturday, August 9th. The event will also include local divisions: Outlaw Late Models, Sportsman, and Modified Mini-Stocks. Racing action begins at 7:30.
Connect with The Crittenden Automotive Library