Gearing Up for 2009
Gearing Up for 2009
ISCARS PR
February 24, 2009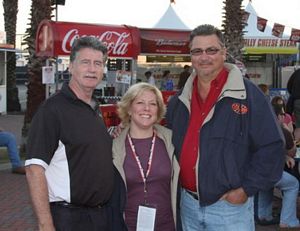 L to R is Dennis Huth, ASA President, Tiffeny Lamborne, and ISCARS President Randy Claypoole while attending the NASCAR Truck Event at Daytona
DAYTONA BEACH, FL - ISCARS has 12 races planned for 2009. Considering more events is an option once we have a clearer picture of what will transpire with the economical situation.
The upcoming season looks promising with several new teams slated to participate and also a solid forcast for increased car count heading into the fifth season since ISCARS began in 2005.
The season kicks off on May 9th at Lonesome Pine Raceway in Coeburn, VA. ISCARS also returns to Shenandoah Speedway in 2009. Shenandoah held the first official ISCARS DASH Touring event in July of 2005.
Speedweeks in Daytona marked the official start for Stock car racing. Justin Hobgood and Johnny Chapman competed in the NASCAR Camping World Truck race. Geoff Bodine ran in one of the Gatorade Duels, but fell short of qualifying for the Daytona 500. Bodine teams with his brother Todd and car owner Larry Gunselman. They plan to run a few Cup races in 2009. Geoff intends to compete in ISCARS as well.
Click on the "Full Schedule" link on the front page of our website to see all of the race dates. ISCARS Plans to continue with the two race per event format for 2009.
Connect with The Crittenden Automotive Library