ISCARS Reschedules Rain Out at LPR
ISCARS Reschedules Rain Out at LPR
ISCARS/ASA Public Relations
May 11, 2009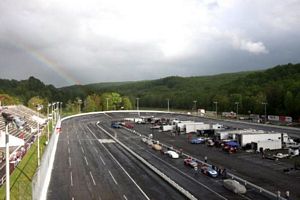 Full Moon Shines Over LPR in 2005
ISCARS Official Lee Holmes loses battle with cancer.
Coeburn, VA - We beat the rain all day until just minutes before the command to start engines.
After nearly two hours of track drying, the local divisions raced. However, they were using either street tires or grooved tires.
ISCARS DASH Touring Officials and drivers felt there was too much water on pit road and also in the lanes just outside of the groove.
It was a tough call, but all the drivers agreed they would not be able to race competitively.
"We appreciate the fans understanding our position," states Randy Claypoole, ISCARS President. "We could have put on a single file follow the leader...get the car home safe kind of race, but it would not have been a show the fans would have expected from our series."
LATEST NEWS: ISCARS and LPR have agreed on Saturday, June 27 as the make up date for the ISCARS DASH Touring Twin 75's. Lonesome Pine Raceway has also scheduled ISCARS for October 3rd.
ISCARS also learned of the passing of our dear friend, Lee Holmes. Lee lost his battle with cancer Saturday afternoon in W. Palm Beach, FL. He served as one of our Pit Road Officials. Lee was one of the original officials for ISCARS, having only missed one race since 2005.
While the race was affected by the rain..we now realize that the rainbow over LPR held a different meaning for all of us who loved and appreciated Lee. God Speed Lee.
Connect with The Crittenden Automotive Library