Gerchak Leads Driver Standings and Rookie Standings
Gerchak Leads Driver Standings and Rookie Standings
Devon Holder, ISCARS PR
October 20, 2009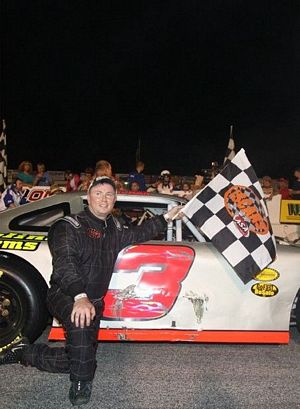 Points Leader Eric Gerchak (Photo courtesy of Dale Roberts)
DAYTONA BEACH, FL - Eric Gerchak entered his rookie campaign in the 2009 ISCARS DASH Touring Series with a simple goal. Gerchak wanted to run all the laps and finish in the top five. This was a very modest goal for a small business owner who moved to Mooresville, North Carolina from New Jersey to pursue his dream of stock car racing.
Gerchak bought his car from a former ISCARS DASH Champion, Eric Wilson, to assure himself that he was in good equipment. However, with only two events (two races at each event) remaining at Orange County Speedway and Hickory Motor Speedway, Gerchak finds himself atop not only the rookie standings, but also the driver standings.
Gerchak leads five drivers in the DASH Series that are separated by a mere seventy points. Consistency has been the key to Gerchak's success this season as he has scored 8 top 10's and 6 top 5's in 8 starts. Gerchak has an average finish of 4.5 which is within his pre-season goal of finishing in the top five. Although consistency has been crucial to Gerchak's success, a trip to victory lane in his second career start at Dillon Motor Speedway helped propel him to a strong start in his Carolina Alarms Pontiac GTO.
Gerchak finished fourth in both twin 75 lap races at Lonesome Pine Raceway this past weekend, working his way up from the eighth starting spot. Gerchak was able to quickly adapt to the racetrack after missing the first practice session. Gerchak was unable to practice in the first session because he had to fly back home to New Jersey to visit his mother, Carol, who is battling cancer. "I planned on going up after the race, but they called and told me I better not wait," said Gerchak upon arriving at the racetrack. "I wish that I had a better excuse for missing practice, but unfortunately I don't."
With a heavy heart and a pre-occupied mind, Gerchak did what all racers do. He climbed behind the wheel of his machine, pulled the belts tight, and went to work on the racetrack. Gerchak spent the first few laps on the track feeling out his car, falling back through the pack. However, as the car came around, Gerchak began to pick off his competitors one at a time. By the time the checkered flag flew, Gerchak found himself with a solid fourth place finish in race one.
"We were out to lunch when the race first started," said Gerchak after taking the point lead in race one. "We did not qualify all that well and we still went backwards. The car got better as the race went on, so I didn't want to make any changes that will hurt us in the second race."
Gerchak opted to not make any major changes and the decision paid off. Gerchak again ran in the top five and finished fourth in race two. "If we could finish first as many times as we have finished fourth we would be killing them," joked Gerchak after picking up his 5th fourth place finish of the season and increasing his point lead. "The car was a lot better in the second race. I knew that Humphrey pulled in early and I saw Bodine head into the pits, so I decided to just race smart." Gerchak currently holds a 29 point lead in the driver standings over fellow rookie competitor Jason Shultz. Gerchak also holds an 8 point lead over Shultz in the rookie standings. "It is very exciting for me to be leading the points my first year in the series," continued Gerchak. "I am racing against my childhood hero, Geoff Bodine, and to be ahead of him right now is an honor."
Eric Gerchak and the rest of the ISCARS DASH Touring Series teams will return to action at Orange County Speedway in Rougemont, North Carolina on October 31st for the next to last event of the 2009 season. To find out more information about Eric Gerchak and the ISCARS DASH Touring Series sanctioned by ASA Racing, be sure to log on to www.iscarsonline.com.
ASA™, ASA Racing™ and American Speed Association® are trademarks of Racing Speed Associates, LLC. ASA International, LLC or Racing Speed Associates, LLC are not related to or affiliated with ASA Late Model Series, LLC.
Connect with The Crittenden Automotive Library