ISCARS CHAMPIONSHIP DAY
ISCARS CHAMPIONSHIP DAY
ISCARS PR
November 9, 2009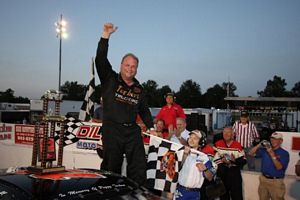 Danny Bagwell Champion 2007 and 2008
Hickory, NC - Saturday is Championship Day for ISCARS DASH Touring, Sanctioned by ASA
Eight (8) points separate three drivers in the chase for the 2009 ISCARS Championship.
Two (2) 75 lap races.
Bonus of 5 points goes to the JRM Racing Products Hottest Lap winner (Fastest Qualifier).
Bonus of 5 points for winning a race.
Bonus of 5 points for leading a lap.
A First Time ISCARS Champion will be crowned following these two races.
A Rookie Driver could become the Champion. Robert Huffman is the only driver to accomplish this feat (1990).
The final event in 1990 was held at Hickory Motor Speedway. Johnny Chapman was the winner with Gary Moore winning the pole.
Let's go racing!
Connect with The Crittenden Automotive Library