Bagwell, Hawkes received Hickory Motor Speedway Checkered Flags
Bagwell, Hawkes received Hickory Motor Speedway Checkered Flags
Timmy Hutson/ISCARS PR
July 9, 2010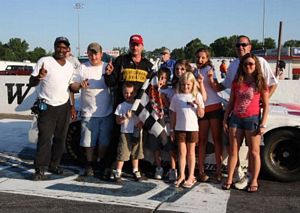 Todd Hawkes, crew and family celebrate career victory #1 (Photo courtesy of Dale Roberts)
DAYTONA BEACH, FL - For many rookie competitors, keeping your car in one piece and gaining respect of the veteran racers is a major accomplishment. ISCARS DASH Touring, Sanctioned by the American Speed Association (ASA) rookie contender, Todd Hawks, has accomplished both on his way to getting his first career pole and notching his first win last week at Hickory Motor Speedway.
ISCARS hosted the East Coast Flat Heads and a contingency of INEX Legends cars along with Twin 50 lap DASH Touring races. Two-time series' champion Danny Bagwell, started the event from the outside pole. Bagwell quickly grabbed the point and never looked back, recording his fifth win of the 2010 season, with Joey Jones and Charlie Barham rounding out the top three.
The unique twin bill format used by ISCARS allows teams to make adjustments while the support divisions run their races. Race winner, Bagwell drew for the inversion and the top six swapped positions for the start of the second race. Eric Gerchak led the first four laps until being moved out of the groove by Hawkes.
Hawkes took the lead followed by a train of cars including Bagwell, Jones, Barsham, Chelsea Shillig and Gerchak all fighting hard for position. Bagwell dove underneath Hawkes to take the lead on lap 15. However, Hawkes was able to keep drive in deep and stay on the bottom. After dogging Bagwell for several laps he was finally able to muscle back the lead on lap 30. Bagwell fought back but spun his car exiting turn two setting up a green-white-checkered DASH. On the restart, Hawkes nailed the gas pedal and Bagwell made a daring move entering turn one to gain several spots and contend for the win. Hawkes held on to take the win. "I want to dedicate this win to C.J. and my dad," said Hawkes.
With the win, Hawkes joined Joey Jones as the only drivers to beat Bagwell to the checkered flag in 2010.
Notes and Quotes:
After taking time off for school, Chelsea Shillig returned to make her first ISCARS DASH start in over a year. Shilling got as high as second place before her and Gerchak made contact. Gerchak finished fifth and Shillig finished in sixth place.
Also making his first start of the year was Virginia's Tom Beckman. Beckman finished eighth in the first race and collected his first top five (5th place) in the second race.
Quote of the day is from Joey Jones. "I don't want anyone to give us anything on Bagwell. I want to figure out how to run with him and beat him consistently. That's what racing and getting seat time is all about."
The next event will be August 7th, at Lonesome Pine Raceway, located in Coeburn, VA.
Connect with The Crittenden Automotive Library