ISCARS Announces Marketing Partnership with Car Care Product Company
ISCARS Announces Marketing Partnership with Car Care Product Company
ISCARS PR
July 23, 2010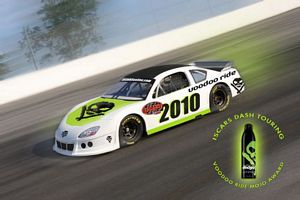 (Courtesy of Dale Roberts)
DAYTONA BEACH, FL - International Sport Compact Auto Racing Series (ISCARS) DASH Touring, Sanctioned by the American Speed Association (ASA) has signed a multi-year agreement with Voodoo Ride as a sponsor in the series.
ISCARS DASH Touring is America's Stock Car Tuner Series, featuring Sport Compact body styles on circle tracks in the southeast.
Voodoo Ride is a Chicago-based company that produces and distributes a complete line of premier vehicle appearance products. Voodoo Ride was founded in early 2007 by NASCAR driver Dale Earnhardt Jr. and Christopher Ferraro, former president and CEO of Venture Brands LLC, a marine and automotive surface company.
"We are very excited to be involved with ISCARS. Our association provides us a great platform to interact with our consumer base as ISCARS and Voodoo Ride share a common audience and core brand equities. As a relatively new brand, we feel our strategic multi-year relationship provides a grass roots opportunity to communicate our product point-of-difference and reinforce our rapidly growing consumer following while expanding the ISCARS fan base as well," says Chris Ferraro, President/CEO of Voodoo Ride.
Voodoo Ride's initial involvement in the series, began with team owner Robert Tighe, who fields an ISCARS entry driven by his son, Robert Tighe III, known as RT3. Tighe Racing is located in Aberdeen, NC.
"We appreciate Bob Tighe introducing us to Chris Ferraro. During the past few months of working out the arrangement for a marketing partnership it has become apparent we represent many of the same goals for reaching a targeted demographic of car care enthusiasts," states Randy Claypoole, President/CEO of ISCARS. "With the sponsorship expanding to involve the entire series, I believe it will enhance consumer exposure and activation of the co-branding as we seek to partner with auto parts stores and car shows."
Co-branding is a major dynamic of the agreement. Voodoo Ride has agreed to promote the ISCARS name and logo on products associated with the partnership.
Voodoo Ride manufactures a complete line of automotive surface care products including Mojo (all surface speed detailer), Shoq (tire and wheel cleaner), Hypd (high gloss tire finish), Silq (synthetic liquid polish), Hexx (scratch remover), JuJu (concentrated car wash soap) and Jakd (micro fiber cloths). To learn more about Voodoo Ride products, visit www.voodooride.com.
For more information on ISCARS, log on to www.iscarsonline.com. ISCARS DASH Touring is sanctioned by the American Speed Association . To learn more of the Daytona Beach, Florida-based Racing Speed Associates or the American Speed Association® including the ASA Member Track program, call (386) 258-2221 or send an e-mail to info@asa-racing.com. For news and information from racetracks and regional tours involved in the American Speed Association®, visit www.asaracing.com .
ASA™, ASA Racing™ and American Speed Association® are trademarks of Racing Speed Associates, LLC. Racing Speed Associates, LLC is not related to or affiliated with ASA Late Model Series, LLC
Connect with The Crittenden Automotive Library