Todd Hawkes 2010 Rookie of the Year
Todd Hawkes 2010 Rookie of the Year
ISCARS PR
October 5, 2010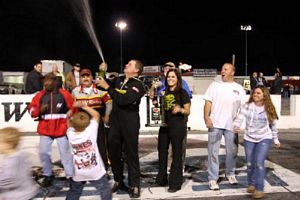 Hawkes celebrating his award with family and team. (Photo courtesy of Dale Roberts)
Hickory, NC - Todd Hawkes bought his car a mere three days prior to the first race of the season and quickly made his presence known.
Hawkes and Joey Jones were the only two drivers able to keep Bagwell out of Victory Lane in 2010. Hawkes earned two victories and Jone one. Bagwell visited victory lane ten times this year.
ISCARS congratulates Todd Hawkes and his VT Ford Focus team for a great season and Rookie of the Year.
Connect with The Crittenden Automotive Library