Former Race Care Driver Helps Teens on 'Driver's Edge'
Former Race Care Driver Helps Teens on 'Driver's Edge'
Roseanne Skirble
Austin, Texas
June 28, 2003



Listen to Former Race Care Driver Helps Teens on 'Driver's Edge' - RealPlayer - 900KB - 7:19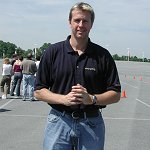 Jim Payne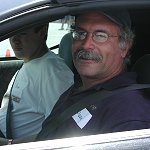 Mark Webber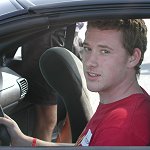 Teen Driver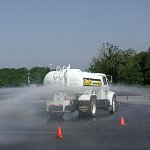 Water Truck
Motor vehicle accidents are the leading cause of death for American teenagers between the ages of 15 and 20. The reason seems obvious. In the United States, young people can get their driver's licenses earlier, and hit the road with less experience and training than drivers in most other countries.
A former racecar driver wants to alert teens to the dangers and responsibilities of operating a car and to techniques that can improve their chances of surviving on the road. He has called on other racecar drivers to help teach America's teens to drive defensively.
It is a warm spring morning and the vast parking lot in front of FED-EX Field a professional football stadium has been turned into a driving course dotted with red traffic cones. A water truck sprays the course to simulate a dangerous, rain-soaked highway. What is missing is the traffic, although a half-dozen test vehicles, shiny Cameros and BMWs, are parked on the tarmac.
Teenagers crowd registration tables to register for "Driver's Edge," the hands-on driving course developed by former racecar driver Jim Payne. Mr. Payne says the purpose of the four hour session is to teach some practical driving skills. "There is a big difference between teaching the fundamentals of how to operate a vehicle and actually allowing these young drivers to get into a situation where they can experience what happens when a car loses control and begins to spin, what happens when you slam on the brakes," he says. "So, if it ever happens to them on the highway, they are more aware in general, but better prepared to deal with it."
Teens learn how to cope with these potential panic situations from experts like Mark Webber, a racecar driver from St. Louis, Missouri. "The first thing we are going to do is to put three of you in each car and leave the driver's seat open because the instructor will take you for a couple of laps. This is probably the safest time you are ever going to have to spin out in a Camero," he says.
Students belted safely in the Camero then take turns making the car skid out of control on the slippery pavement. This is not a theme park ride, warns Mark Webber, but the real thing. "You have to do this with anticipation because you have a 3,000 pound car on the road and you can't stop it instantly. OK accelerate lift turn and counter steer. Now that wasn't bad. You noticed as you counter steered the car caught and it jerked over to the right. You have to anticipate and catch it as it runs out of speed," he tells the students.
The teens some timid, others not practice the same maneuver. A second group of students in another exercise test the anti-lock brakes on their BMWs.
Racecar driver Mike Speck instructs the teen behind the wheel. "Is everyone's belt on? OK, all we are going to do is accelerate until you hear me say brake. It is as simple as that," he says. "Keep going! Keep going! Keep going! Keep going! Keep going! Keep going! Keep going! Keep going! Keep going! Brake! Perfect!"
The driver, and backseat passengers, are jolted, but unhurt. They discover that the brakes stop the car, but don't lock the wheels. They can safely steer out of potential danger.
Parents watch intently as the teens brake, skid and slide in the safety of the parking lot. Jill Landsman says the maneuvers give her 16-year-old son Sean the knowledge he lacks. "They have a controlled setting for dangerous conditions and they will get first hand experience with it," she says. "So when they have reality based experiences that are comparable, they will have heard and remember the techniques which might be counter-intuitive to their natural responses. They have to know what to do to operate what can be a lethal weapon."
The Landsman family sadly learned that lesson the week before when a classmate of Sean's was killed in an automobile accident.
Landsman: "And the irony is just chilling me to the bone. Here we are teaching driving techniques and this little girl didn't have that."
Skirble: "What did it take for you to come here today, having lost a young person in your community?"
Landsman: "I never saw my son cry so much when they were standing vigil by the site and I never saw him cry so hard. And, I am only praying that between that experience, exposing us to the sorrow of that family, and this educational experience, that something will click in and (he'll) be responsible and diligent and careful when he is behind the wheel."
But can a four hour course prevent the tragic car crashes that claim so many teens' lives? "It is a wake-up call," says "Driver's Edge" founder Jim Payne, who would like to see the course become mandatory for all new drivers. This session is just a start. "Even if it is one driver at a time. We are just crawling now," he says. "Our next step is to create the awareness and hopefully make a big difference and save lives."
The teens say they emerge from the course with some useful skills and a deeper respect for driving.
That, says Jim Payne, is the message he wants to get across. Over the next several months he will take "Driver's Edge" on a road tour to 13 U.S. cities.
Connect with The Crittenden Automotive Library