One Brand, Two Ways to Sell

Topics: Tom Peck Ford, Bull Valley Ford
Opinions expressed by Bill Crittenden are not official policies or positions of The Crittenden Automotive Library. You can read more about the Library's goals, mission, policies, and operations on the About Us page.
One Brand, Two Ways to Sell
Bill Crittenden
September 20, 2013

Well, we had some fun today!

So we received something in the mail the other day, that said we had won a prize and to come on down to Tom Peck Ford this weekend and claim it. The original sheet made it look to someone who might not know better (or didn't read the fine print) that they had won a Ford Fusion. I knew we'd be in for the $5 Walmart gift card, but I wanted to go anyway. Who knows, maybe a dealership marketing this aggressively might be interested in advertising with me. Only one way to find out!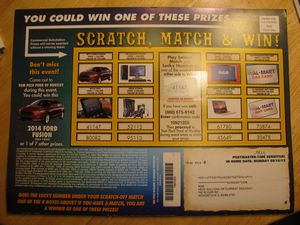 The advertising sheet.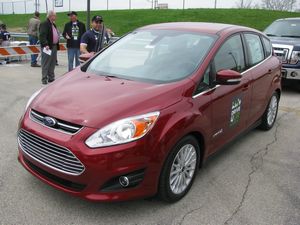 The Ford C-Max Hybrid.
So we went down there under the impression that we had an "appointment" with Joey from the confirmation call we had to make about our prize. We ended up talking to Sal, but I only found out his name when I got home and saw the notes he wrote. He was the stereotypical fast-talking bullshitter one would expect from a bad sitcom car dealership, one that we had thought would be long gone from a small-town dealership looking to be a part of a community.
Oh, but he wasn't from around here. See, according to Sal (a loaded statement, as one will see soon), he was from about 30 minutes from Raleigh and he didn't work for the dealership. He was called in by the bank, which markets the "event" to clear out inventory for whatever the dealer has into each car. Which explains why when we pulled up early in the morning several dealers were circling the front door like pirahnas. Anyway, after this event then he's off to another part of the country, supposedly Los Angeles in January, so he gets to make all sorts of claims and never have to worry about seeing the customer again.
Claims like the 28 mile-per-gallon rated Focus we were looking at getting at least 38 miles per gallon, he "promises." He brought it up, too, it wasn't anything I asked about. He pointed out the sticker, and said that that's not right, it'd get way better than the rating on the sticker. Oh, I can be a bit of a leadfoot? 34 then. At least. "I promise!"
We stuck around for a while because we enjoyed looking and Sal was actually fairly amusing. That was until he, I'm sure oblivious to the fact that customers might actually have feelings, insulted my wife (no details, sorry, not going over THAT publicly) and then tried to tell her that we could lower our payments by splitting the payments into two per month. Of course, he meant make two low payments that would equal more than the one monthly payment we make now, but hey, each payment would be lower! (Sal's math: paying $250 every two weeks is a "lower payment" than $350 once per month)
That didn't go over well with my wife, who has the business sense to run circles around most car dealers, honest or not. She's just good at calculating that stuff.
So we left, a little insulted, a little amused, and myself in particular with more respect for my wife and a new admiration of the Ford Edge. It has a damn nice interior! It's a little bit like a mini Flex, minus the box styling. Heidi's father owns a Flex that we're all at varying degrees of liking/loving/impressed with.
I also finally got into a newer model Focus, which I was
very
impressed with, at least just sitting in it and not driving it. It fit me perfectly, which is not easy to do, but at the expense of anyone besides Oscar Pistorius ever sitting behind me. I really loved that retro light teal color, and with painted steel wheels and some hand-painted pinstripes for retro effect it would have been looked fantastic.
The C-Max looks to be the best bet if my family goes all in on Fords now. The high roofline not only fits my unusually shaped frame but the hybrid fuel efficiency appeals to us as well. That car I did get to drive, although it was a few months ago, thanks to a very friendly local dealer from Bull Valley Ford right here in Woodstock. It was a little odd, being the first hybrid I'd ever driven, but for a smaller car it had a fantastic interior. I'm 6'2" with a long torso and short arms, so finding a car I have headroom in without laying the seat down so I can still reach the controls comfortably is actually really, really difficult.
That Ford experience was part of a Ford Drive 4UR School fundraiser at Woodstock High School run in conjunction with the car show there earlier this year. Erik Macedo gave me his card and talked cars with me for a while and invited me to come on down any time because he's trying to build a good reputation in the community, not shove off a deal on someone and skip town. Bull Valley Ford is where John bought his Flex, and he's also had good things to say about their salesmen and service department, while he said that Tom Peck has salesmen, "straight outta the city," a sort of country colloqualism for the sort of fast talking shyster car dealer that will say anything to get a name on a contract.
Connect with The Crittenden Automotive Library