FOR IMMEDIATE RELEASE:

Calvert Racing Suspensions Returns as PSCA Partner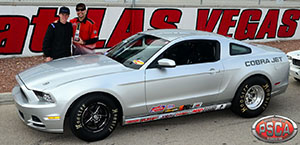 Contact:
Brandon W. Mudd
BWMudd@yahoo.com
636-219-9676
LAS VEGAS –
At the season-opening Pacific Street Car Association's MagnaFuel Record Breaker Nationals at The Strip at Las Vegas Motor Speedway, Calvert Racing Suspensions saw four winners and four runners up using its famous Caltrac Bars. Those results last weekend as well as the last decade and a half with PSCA has contributed to owner John Calvert renewing his company's commitment to being the sponsor for the Calvert Racing Suspensions Street Muscle class as well posting racer contingency class.
"Calvert Racing Suspensions has been with the PSCA since the very beginning," said Mel Roth, sanction president. "For us, it's great to see one of our partners see their sponsorship in action. Eight podium finishes last weekend, including a win by John's son Brent in the Accufab Mustang Maddness, is a good sign that their product works. It's been a great relationship for 15 years and we're hoping for 15 more."
For more information on Calverts Racing Suspensions, visit them on the Web at CalvertRacing.com or on their official page on
Facebook
. Next up for PSCA is the much-anticipated return to Fontana Feb. 28-March 2. For more info, check out PSCARacing.com.
Fans of the Pacific Street Car Association can find updates and photos of PSCA racers and events by checking out PSCARacing.com, Twitter.com/PSCARacing, and Facebook.com/PSCARacing. Videos of PSCA drag racing action can be found at YouTube.com/PSCARacing.
Racers and fans can also visit the PSCA's official page on
Facebook
to find photos, stories, and videos of the best drag racing in the country.
PSCA Merchandise:
Give the gift of drag racing with PSCA swag from our online store. Click
HERE
for shirts and everything else the racer in your family wants.
-PSCA-
About the Pacific Street Car Association:
In its 15th season, the Pacific Street Car Association, based in Las Vegas, has been a staple of West Coast drag racing since its inception. With six heads-up classes, four bracket classes, and two index classes, the PSCA provides some of the best racing in the country for both fans and racers. The PSCA season is capped off by its Street Car Super Nationals at The Strip at Las Vegas Motor Speedway, now in its tenth year.
About HighSide Media:
Founded in 2007, HighSide Media has represented some of the top drivers, teams, facilities, sponsors, and sanctions in American motorsports. HighSide Media provides public and media relations for racers at every level with tailor-made programs for every budget. Pass YOUR Competition on the HighSide.