Here and There in Motoring's Past: 1903 - Mr. Packard's Single Cylinder Obsession
Here and There in Motoring's Past: 1903 - Mr. Packard's Single Cylinder Obsession
Peter Helck
Antique Automobile
March-April 1972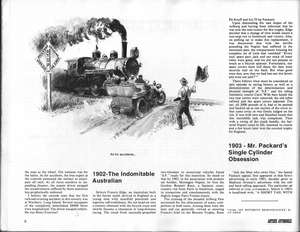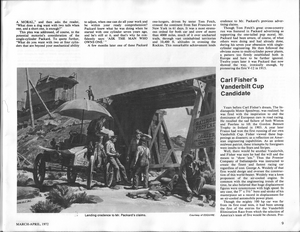 Lending credence to Mr. Packard's claims.
Ask the Man who owns One," the famed Packard appeal, first appeared in that firm's advertising in early 1903, decades prior to Madison Avenue's adroitness with the soft and hard selling approach. The particular ad referred to (The Automobile, March 4, 1903) is headlined with, "A SHORT TAIL WITH A MORAL," and then asks the reader, "What does a dog want with two tails when one, and a short one, is enough?"
This plea was addressed, of course, to the potential motorist's consideration of the single-cylinder Packard. To quote further, "What do you want with two or four cylinders that are beyond your mechanical ability to adjust, when one can do all your work and be within your ready comprehension? Packard knew what he was doing when he started with one cylinder seven years ago, and he's still at it, and that's why he confidently says: 'ASK THE MAN WHO OWNS ONE.'"
A few months later one of these Packard one-lungers, driven by tester Tom Fetch, crossed the continent from San Francisco to New York in 61 days. It was a most strenuous ordeal for both car and crew of more than 4000 miles, much of it over uncharted trails, through vast uninhabited territories and 10,400 ft. altitudes in crossing the Rockies. This remarkable achievement lends credence to Mr. Packard's previous advertising claims.
Though Tom Fetch's great cross-country run was featured in Packard advertising as supporting the one-tailed pup moral, Mr. Packard had been aware, of course, of what others were doing and had already done, during his seven year obsession with single-cylinder engineering. He then followed the obvious move to multi-cylinder power plants, a pattern too firmly established both in Europe and here to be further ignored. Twelve years later it was Packard that now showed the way, ironically enough, by pioneering the first V-12 in 1915.
Connect with The Crittenden Automotive Library