Uruguay Launches First "ZERO EMISSIONS" Pure-Electric Buses
Uruguay Launches First "ZERO EMISSIONS" Pure-Electric Buses
BYD
May 23, 2013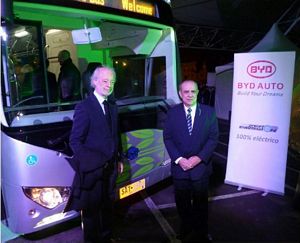 Montevideo, Uruguay May 22nd, 2013. BUQUEBUS and CTS Auto S.A. in partnership with Chinese automaker, BYD Co., Ltd. unveiled the first 12 meter rapid transit bus powered 100% by electricity in Uruguay and the region today. The ceremony was the culmination of an Electric Bus contract announced last year and was attended by President Mujica, Roberto Kreimerman Minister of Industry, Energy and Mining, Mrs. Liliam Kechichian, Minister of Tourism and Sports, Mr. Lopez Mena from BUQUEBUS, and Mr. Sasson Attie from CTS AUTO S.A., representing BYD Co., Ltd. The BYD Electric Bus integrates several cutting-edge, rapid-transit technologies including; with two in-rear-wheel, electric motors capable of a cruising speed over 88 km/h (or > 55mph), the first environmentally-friendly Iron-Phosphate Battery that provides a range of over 250 km (155 miles) – nearly 24 hours of service daily in most Uruguay applications. The BYD battery technology also allows for a full charge in less than 5 hours overnight (while the electricity pricing can be lower).
The rechargeable battery system and electric motors developed by BYD engineers together offer a significant savings in both energy consumption and environmental pollution. Because of the in-wheel-hub motors, the BYD Electric Bus has the lowest floor through-out the bus in the world – there is only one step onto the bus allowing quick and easy access for people with reduced mobility, wheelchairs and baby strollers. These first units are designed to fulfill the tourist bus routes in Colonia, but soon, several long-distance BYD-options will join the BUQUEBUS as urban transport buses.
By 2015 it is expected that more than 500 BYD electric buses will be running on the streets and roads of Uruguay, generating significant environmental impact. The CO2 savings (vs. traditional diesel bus) is equal to 20,000 hectares of Forest per 500 buses in circulation – this is the same area covered by the entire city of Montevideo. The Green Footprint concept has important benefits to the environment. The BYD Electric Bus does not produce gaseous emissions and engine noise is almost imperceptible (see video link). This great news for the country helps them leap into the "third industrial energy revolution" – the revolution of intelligent energy and sustainable development, while showing the greatest respect for the Earth, nature and ecological balance. May we all learn to be better stewards of our Earth.
About BUQUEBUS
Buquebus is the largest tourism transportation company in Uruguay connecting more than 2 million passengers in Argentina and Uruguay a year by boat and by bus. Buquebus was created over 30 years ago by CEO, Mr. Juan Carlos Lopez Mena starting with a 40-year-old vessel and a market only one hundred thousand passengers. Buquebus is also the largest Tourist Agent in South America, selling over 300,000 hotel beds and 400,000 city tours per year.\
About BYD
BYD Company Ltd. is one of China's largest companies, and one of the very few who have successfully expanded globally. Specializing in battery technologies, their green mission to "solve the whole problem" has made them industry pioneers and leaders in sectors including Automobiles, Public Transit, Energy Storage, Photovoltaic and Information Technology manufacturing services.
Already being the world's largest manufacturer of rechargeable batteries, their mission to create safer and more environmentally friendly battery technologies has lead to the development of the Iron Phosphate (Fe) Battery. This non-combustible, completely recyclable and incredibly long lasting technology has become the core of their clean energy platform that has expanded into automobiles, buses, trucks, utility vehicles and energy storage facilities. BYD and all of their shareholders, including the great American Investor Warren Buffett, see these environmentally and economically forward products as the way of the future.
BYD has made a strong entrance to the North, Central and South American markets with their battery electric bus, and lineup of automobiles. Their mission lies not just in sales growth, but also in sociological integration as they have poured incredible into developing offices, dealerships and manufacturing facilities in the local communities they now call home, truly a first for a Chinese company. For more information, please visit www.byd.com, www.bydeurope.com, www.facebook.com/bydcompany, or pr@byd.com.
Connect with The Crittenden Automotive Library