Here and There in Motoring's Past: 1911 - The Fiat Tipo S-74
Here and There in Motoring's Past: 1911 - The Fiat Tipo S-74
Peter Helck
Antique Automobile
March-April 1972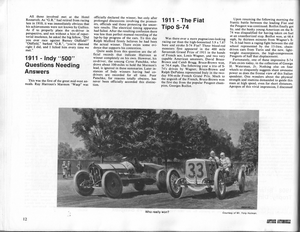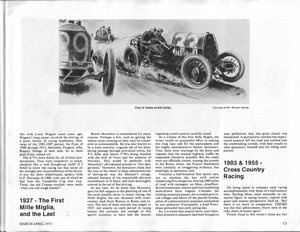 One of these exists today.
Was there ever a more pugnacious-looking racing car than the high-bonnetted 5.9 x 7.87 bore and stroke S-74 Fiat? These blood-red monsters first appeared in the 400 mile Savannah Grand Prize of 1911 in the hands of French ace, Louis Wagner, and two very capable American amateurs, David Bruce-Brown and Caleb Bragg. Bruce-Brown won, at 74.4 mph. The following year a trio of S-74's driven by Wagner, Bruce-Brown and Ralph DePalma represented Italy in the two-day 956-mile French Grand Prix. Much to the anguish of the French, Bruce-Brown won the first day from the popular Peugeot champion, Georges Boillot.
Upon resuming the following morning the frantic battle between the leading Fiat and the Peugeot was continued. Boillot finally got by, and the husky young American on the S-74 was disqualified for having taken on fuel at an unauthorized stop. Boillot won, at 68.4 mph, by thirteen minutes from Wagner's S-74. It had been a raging fight between the old school represented by the 15-litre, chain driven cars from Turin and the new, light-weight masterpieces, the high-compression Peugeots of half that displacement.
Fortunately, one of these impressive S-74 Fiats exists today, in the collection of George H. Waterman, Jr. Nothing else on four wheels so eloquently suggests sheer awesome power as does the frontal view of this Italian speedster. One wonders about the physical strength and stamina demanded to guide this mass at high speed, even for short distances. Apropos of this vivid impression, I discussed this with Louis Wagner some years ago. Wagner's long career involved the driving of a great variety of racing machinery: Darracqs of the 1903-1907 period, the Fiats of 1908 through 1912, Mercedes, Peugeot, Alfa, Bugatti, Delage of later date. As to these giant Fiats, indeed no!
The S-74's were docile for all of their ponderousness. They were responsive to touch, obedient like a well brought-up child! If I HAD to know the racing car that taxed all the strength and resourcefulness of the driver, it was the short wheel-based, spidery little G.P. Darracqs of 1906, with one of which he had won the Vanderbilt Cup that year. These, the old champ recalled, were really "what you call tough babees!"
Connect with The Crittenden Automotive Library