Here and There in Motoring's Past: 1969-1971 Recent Discoveries
Here and There in Motoring's Past: 1903 & 1955 - Cross Country Racing
Peter Helck
Antique Automobile
March-April 1972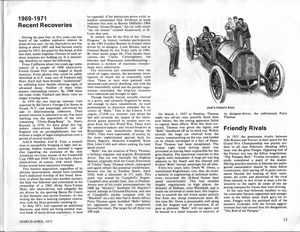 Joel's historic Alco.
During the past four or five years one has heard of the sudden explosive interest in chain-driven cars. As the chain-drive era was fading at about 1907 and had become nearly extinct by 1913, the quest for this breed, at this late date, seems hopeless. Owners of such archaic treasures are holding on. It is interesting, therefore, to report the following.
From California about two years ago came rumors of a couple of 1908 chain-drive French Grand Prix racers lodged in South America. From photos they could be safely identified as G.P. team cars of Panhard and Mors. Each had been brutally "modernized" by unfeeling louts besides showing signs of advanced decay. Neither of these relics possess outstanding careers. By 1908 these old trade rivals, Panhard and Mors, were no longer winning races.
In 1970 the two beat-up veterans were acquired by Ed Jurist's Vintage Car Stores in Nyack, N.Y. and temptingly advertised for sale to discriminating collectors. Their present location is unknown to me. Far more startling was the acquisition of the sole-remaining "Chitty-Bang-Bang" by Harry Reznick in 1970. To have pried this legendary chain-driven behemoth out of England was an accomplishment, but not without a tangle of legal complications over a period of several months.
AACA Member, Joel E. Finn, a miracle man in successfully bringing to light, and acquiring, hidden treasures, pursued a vague clue regarding the existence of the only American two-time winner of the Vanderbilt Cup, 1909 and 1910! This is the hefty Alco-6, chain-driven of course, with which Harry Grant scored these successive triumphs.
This historic acquisition, regardless of its obvious deterioration, should have satisfied Joel's dedicated worship of this breed. However, at about the same time another mysterious lead was followed and culminated in his ownership of a 1902 60-hp Paris-Vienna Mors, also chain-driven, and allegedly the car driven by the sporting Baron De Caters in that fantastic race across frontiers. At this writing the Alco is nearing complete restoration, with the Mors presently standing by.
In May 1971, Joel reported an additional discovery, and while not being a massive hunk of chain-driven machinery, it must be regarded, if the deductions prove valid, as another sensational find. Evidence at hand indicates this relic as Barney Oldfield's 1904 Peerless "Green Dragon," the car with which "the old master" crashed disastrously at St. Louis that year.
If, indeed, this IS the first of the "Green Dragons," its history includes participation in the 1903 Gordon Bennett in Ireland when driven by its designer, Louis Mooers, and at Ormond Beach by Joe Tracy early in 1904. By what occult magic Mr. Finn locates these rarities—the Clarks, Cunninghams, the Harrahs and Watermans notwithstanding—produces a mixture of reactions—wonderment, envy, admiration.
The recoveries just mentioned were the result of vague rumors, the persistent investigation of which led to reasonably valid clues. These in turn were pursued with increased (and secret) sleuthing, and with the hunt successfully ended and the painful negotiations concluded, the long-lost treasures were redeemed and brought to light.
Though literally buried, actually interred in a grave, and certainly forgotten by many old enough to have remembered, no such preliminaries in detection attended the recovery of "Babs." This is the Liberty V-12 engine, 27,058 c.c. monster, just about the last and certainly the largest of the chain-driven giants powered by surplus aero engines from the first World War. These were the sensation-makers and record-breakers at Brooklands vast motordrome during the 1920's. They were superseded, of course, by the more sophisticated specials built for Henry Segrave, Malcolm Campbell, Kaye Don, John Cobb and others seeking the land speed record.
"Babs" was the creation of Parry Thomas, a brilliant engineer and popular Brooklands driver. The car was basically the Higham Special, originally built for Count Zborowski of "Chitty" fame. Thomas rebuilt, redesigned and again rebuilt this potential world-beater. Success was his at Pendine Sands, April 1926, with a kilometer at 171 mph. This mark was erased by Campbell's Napier-Campbell nine months later, also at Pendine. Aware now of his rivals' preoccupations; the 1000 hp "Mystery" Sunbeam for Segrave's record attempt at Ormond-Daytona, and also of Campbell's similar conquest with his "Bluebird" on a dry lake bed in South Africa, Parry Thomas again modified "Babs" before his opponents put the mark completely beyond his reach. The target for all three was 200 mph.
On March 1, 1927 at Pendine, Thomas made two all-out runs, possibly faster than ever before, but the timing apparatus failed to register these efforts. With this fault corrected, Thomas was given the signal, and "Babs" thundered off on its third run. Within seconds the huge car swerved from the course, somersaulting on the way, and landed on its wheels enveloped in a fury of flame. Poor Thomas had been decapitated. The broken right hand driving chain was presumed as having been responsible for this grim fatality. The emotional reactions to this tragedy were immediate. A huge pit was dug adjacent to the beach and the charred and broken "Babs" buried, seemingly for all time.
Forty-two years later, Owen W. Owen, a sentimental Englishman (yes, they do exist), a lecturer in engineering at technical institutions, excavated the ill-fated former land speed record-holder. This had entailed lengthy negotiations in high places, the Ministry of Defense, even Whitehall, and is much too involved to relate here. His inspiration to unearth the old wreck seems entirely free from any cheap commercial taint. By this time Mr. Owen is presumably well along with his Augean task of restoration. If all goes as planned, "Babs" will run again, and be housed in a small museum in memory of its designer-driver, the unfortunate Parry Thomas.
Connect with The Crittenden Automotive Library