Thunderstorms Soak Long Beach Practice Friday
Thunderstorms Soak Long Beach Practice Friday
Tom Blattler
Ed Carpenter Racing
April 13, 2012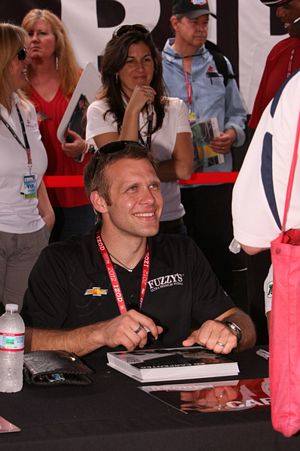 Ed signing autographs
April 13th 2012 - LONG BEACH, Calif. – Friday's activities at the famed Toyota Grand Prix of Long Beach looked more like a sloppy day in Indiana in May.
Thunderstorms and wind made it a tough day for the IZOD IndyCar Series competitors as they prepared for Sunday's feature race, the third event on the 16-race open-wheel tour.
On Friday at Barber Motorsports Park two weeks ago, rain washed out the Friday afternoon session. It was a repeat Friday in Long Beach as thunder, lightning and cold weather kept the IndyCar drivers from driving on the 1.9-mile street circuit.
Ed Carpenter and his Fuzzy's Vodka squad only managed seven laps in the morning session Friday in wet conditions, as 20 drivers attempted to maneuver the slippery track surface with the Firestone rain tires. Carpenter took the No. 20 ECR Fuzzy's Ultra Premium Vodka Chevrolet machine to a best time of one minute, 22.7224 seconds for the 14th best clocking of the day.
"It looked more like an Indiana day in May here at Long Beach" said Carpenter. "It was thunderstorms and heavy rain. And it's cold too here. Boy, I didn't think they had that in California."
Carpenter even got caught in a downpour as he ran across the paddock for a live TV interview.
"Wow, I've never seen it rain like this in Long Beach," he commented. "Then hearing thunder was really different. You hear it all the time in Indy. But not here."
Carpenter hopes for sunshine Saturday morning when practice resumes at 10:25 a.m.
"We ran a little in the rain this morning in the first practice," he said. "But we only get five sets of Firestone rain tires, so we decided to save the rest for later. We didn't even run in the second session today. The weather forecast looks good for the rest of the weekend. We're prepared for the first practice on Saturday now. I'm just hoping for some sunny weather for Saturday. I don't even care if it is cold as long as the sun comes out."
Connect with The Crittenden Automotive Library