Carpenter, Fuzzy's Chevy Takes 14th at Long Beach
Carpenter, Fuzzy's Chevy Takes 14th at Long Beach
Tom Blattler
Ed Carpenter Racing
April 15, 2012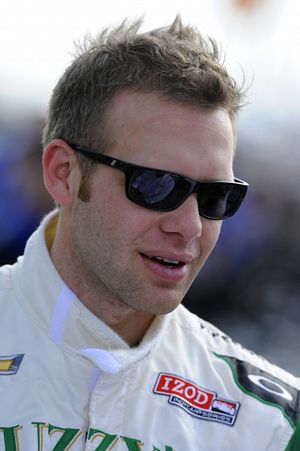 Ed battles the streets of Long Beach
April 15th 2012 - LONG BEACH, Calif. Ed Carpenter drove the No. 20 Fuzzy's Ultra Premium Vodka Chevrolet from his 24th starting position to a 14th place finish Sunday in the prestigious Toyota Grand Prix of Long Beach, the third stop in the 16-race IZOD IndyCar Series.
The 14th place finish is Carpenter's best as a team owner/driver in the ECR squad's third consecutive road course event with earlier races at St. Petersburg and Barber. The team now packs its cars and equipment for the trip to Brazil and the next IndyCar Series race set for April 29 in Sao Paulo.
On Sunday, Carpenter was able to move up early in the 85-lap contest Sunday and later avoided several mishaps with other drivers to take his third straight checkered flag.
The Fuzzy's Vodka car was one of eleven Chevrolet-powered machines forced to change engines before the weekend event after Chevrolet officials made the decision swap out with the new V-6 turbo powerplants. As per INDYCAR rules, all of the Chevrolet cars were penalized 10 starting positions due to the engine change.
But Chevrolet drivers fought back to record six of the top seven positions Sunday with Will Power taking the victory.
"It feels good to finish a little better today," said Carpenter. "It was a tough day though for the Fuzzy's team. We didn't have the car we had at St. Pete. I felt like the race could have been different for us. I think we should have been waved around under yellow when the leader pitted. Unfortunately, we had to ask the officials for a wave around and then the green flag was thrown less than a lap later. So I felt that cost us a chance for a better finish."
Carpenter's new operation makes it first long distance trip to Brazil this coming week, as all equipment will be shipped this Friday (April 20) to the Sao Paulo street circuit.
"We'll put this Long Beach race behind us and pack up for Brazil now," he said. "We have an experienced crew for packing and traveling down there. I have no worries about our team's preparation. It will be my first time in Brazil. So it will be completely new for me."
Carpenter and his Fuzzy's team are also preparing for a big month of May and the May 27 Indianapolis 500, the first oval track race this year in the IZOD IndyCar Series. Practice runs begin on May 12 at the world's most famous racing facility.
Connect with The Crittenden Automotive Library