Ed's Blog Entering the Milwaukee IndyFest
Ed's Blog Entering the Milwaukee IndyFest
Ed Carpenter
Ed Carpenter Racing
June 14, 2012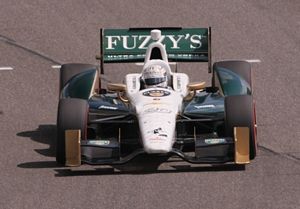 Ed's Blog Entering the Milwaukee IndyFest
June 14th 2012 - We're just about to arrive at The Milwaukee Mile, and I'm looking forward to the race and our chances.
We had our moments at the latest race, the Firestone 550 at Texas Motor Speedway on Saturday night. At times we were very competitive and advanced among the leaders, but eventually the No. 20 Fuzzy's Premium Vodka Ed Carpenter Racing Dallara/Chevrolet finished 12th. It wasn't a great result, but it wasn't bad either.
The race was new to all of us. It's a new car this year – a new chassis with a turbocharged engine. If you're a longtime fan of the Milwaukee race, you'll notice the difference. It has made for some unusual racing compared to what we're used to, but it's definitely interesting for fans.
At Texas, we had a decent car. Nobody had a great car, but we had a reasonable handle on it. It was difficult for everyone to get a handle on things, but I've heard that the end was exciting and the drivers liked it. We were doing well until we had to pit early in the race. After that, we struggled a bit. I'm disappointed that we didn't have a better result, but I'm encouraged that we were competitive.
I've got some great people behind me, and I'm proud of what they've accomplished and confident about out possibilities in the future. That said, I still think the pace could have been faster at Texas. I like the speed of Indy cars, and I felt like the field was a little slow.
Then again, the drama picked up at the end, and people have told me that the last few laps were entertaining, so I'm happy that Justin Wilson won. It's not the kind of racing we usually expect from Texas, but it had its moments. Overall, it was a good show. I would have liked to have had a little more downforce, because it was hard to run in traffic, but it still was a good race.
Hopefully we can find a way to get back to Texas next year. There is some question about the future of the IZOD IndyCar Series racing there, so I hope we're able to figure out a way to return in 2013. It's one of my favorite tracks and one of our largest crowds.
Bottom line, though, is that I'm excited to be continuing this run of oval races this weekend at The Milwaukee Mile. I'm a fan of the history of racing, and that's why I love racing at The Mile. It's older than Indianapolis Motor Speedway, and you can feel the past when you're there.
It's always fun to go to places like that. Michael Andretti and his promotions company have done a great job of reviving the race, and I think the new package will perform well there. Hopefully we can start winning this weekend. We've run up front and had chances to be there at the end this season, but we haven't finished.
Everyone on the team feels like we're going to be strong this weekend. It's going to be a great show. I hope you're able to join us.
Connect with The Crittenden Automotive Library