Carpenter Returns To So-Cal, Last Appearance in the Area was a Winning One
Carpenter Returns To So-Cal, Last Appearance in the Area was a Winning One
Tom Blattler
Ed Carpenter Racing
April 18, 2013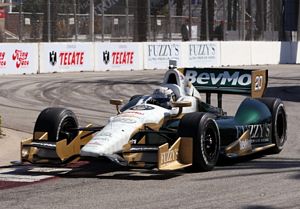 Carpenter Returns to So-Cal, Last Appearance in the Area was a Winning One
April 18th 2013 - LONG BEACH, Calif. – Ed Carpenter has very fond memories of his last visit to the Southern California area.
The IZOD IndyCar Series' only owner/driver and his ECR/Fuzzy's Vodka team celebrated in victory lane at the Auto Club Speedway, having captured the MAVTV 500 last September. The next day, the Carpenter family enjoyed a day at their favorite West Coast playground, Disneyland.
This week, Ed, wife Heather and their three children – Makenna, Ryder and Cruz – will again visit the Anaheim amusement park and Ed will drive in the No. 20 Fuzzy's Ultra Premium Vodka Chevrolet machine in the Los Angeles area.
Rather than the big two-mile oval track east of Los Angeles, Carpenter will battle Sunday on the streets of Long Beach in the annual Grand Prix of Long Beach, the third stop on the 19-race IZOD IndyCar Series trail. While Carpenter would prefer the high banks in Fontana, he is still very anxious to hit the legendary 1.968-mile, 11-turn circuit known as the "Roar by the Shore."
"I'm excited to back to Long Beach," said Carpenter, the only IndyCar driver in the field who came from the dirt tracks of sprint cars and midgets. "I would be even more excited if we were at Fontana rather than Long Beach. But we'll have to wait until October for that one. The trip will be similar as we'll make a visit at Disneyland. The routine will be similar though as last year. I wish we can get the same result as last September."
Carpenter is a bit of racing historian and knows the background of America's most famous street racing event.
"The history and the tradition at Long Beach make it one of the biggest races on our schedule," he said. "The big crowd always makes it more exciting there too for the competitors. You're on a bigger stage there. It's one that everyone enjoys going to each year."
While Carpenter admits his background and expertise is in oval racing, he still believes his ECR/Fuzzy's team has put together a solid setup for the rough and tumble streets in Long Beach. "Last year at this time, we were really just putting our new team together," Carpenter admits.
"We had a good team with Derrick Walker, Tim Broyles and Bret Schmitt leading the way. But our team was all new to each other. This winter, we were able to keep the team intact and work on a variety of things including our street racing setups. We had some off-track testing that I think helped us for the 2013 season. I enjoy the racing at Long Beach and I think we can have a good result this time."
Carpenter says he felt very competitive in the season opener at St. Petersburg and he hopes that will translate to a good result this weekend in Long Beach.
"At St. Petersburg, we moved up into the top-ten before we had a problem with the front wing," he said. "I felt like the car was responding to what we wanted. Of course, it's always a little rougher racing in the streets. The tight quarters make for some banging among the racers. But, overall, I am anxious to get back to action at Long Beach. It's a legendary event and one that you always want to be a part of."
Action gets underway in Long Beach Friday with two practice rounds for the IZOD IndyCar Series drivers. Qualifying is set for Saturday and the green flag drops Sunday for the 80-lap Grand Prix of Long Beach at 1:45 p.m. PDT. The event will be televised live on the NBC Sports Network.
Connect with The Crittenden Automotive Library