Carpenter, ECR Crew Make Speed Gain in Long Beach Qualifying Saturday
Carpenter, ECR Crew Make Speed Gain in Long Beach Qualifying Saturday
Tom Blattler
Ed Carpenter Racing
April 20, 2013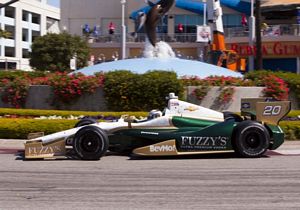 Carpenter, ECR Crew Make Speed Gain in Long Beach Qualifying
April 20th 2013 - LONG BEACH, Calif. – Ed Carpenter and his Fuzzy's Ultra Premium Vodka crew made a big leap in speed Saturday in the streets of Long Beach that included a 2.6-second gain from Friday practice rounds.
Carpenter posted his best speed of the weekend in qualifications runs with a clocking of 102.323 miles per hour over the 1.968-mile, 11-turn circuit near the Long Beach harbor area.
The 39th annual "Roar by the Shore" event, one of the world's most popular and famous street races, makes for a unique racing atmosphere and the large sun-drenched crowd Saturday witnessed solid performances by the entire 27-driver IZOD IndyCar Series lineup.
After a morning practice, the field was split into two qualifying sessions to determine the second time trial round and then the final Firestone Fast Six shootout. Carpenter, whose best speed Friday was 98.82 m.p.h., was set for his qualifying session in round one and immediately jumped to the sixth fastest spot among the 14-driver lineup.
Ed followed that lap up with a half second quicker run and posted the fifth best speed at 102.631 at the time. At the conclusion, Carpenter had to settle for 12th in his qualifying attempt and will start 24th Sunday in the 80-lap main event set for 1:45 p.m. PDT. Defending Indy 500 champion Dario Franchitti captured the pole position with a speed of 105.369 m.p.h.
Carpenter and his Fuzzy's Vodka crew also are paying tribute to the bombing victims of the Boston Marathon by displaying a "Boston Strong" decal near the No. 20 Chevy-powered car's cockpit (see attached photo) in Sunday's Grand Prix of Long Beach. The race will be televised live on the NBC Sports Network.
"The run was a little disappointing, to be honest," said Carpenter. "We were able to catch a break with some guys crashing out late and losing their laps. So that will move us up on the grid. We went out early on the red Firestones and ran into traffic. We lost some good laps right there. It's hard to time those qualifying sessions on a track like this. It happens to everyone at some point. I thought the car was better than the time indicates. It stinks a little because I think we could have jumped up the chart if we could have put a lap together.
"At the same time, we caught a break with other people's misfortunes. We made some changes for qualifying and they helped. But we didn't get aggressive enough with them and that hurt a bit. We were right with our logic on the setup. We just didn't go after it hard enough. We are getting closer to the front of the field. We'll improve the car for the race now too."
Connect with The Crittenden Automotive Library