Bump From Behind Hurts Carpenter's Chances Sunday, ECR Heads Back Home For Indy 500 Month
Bump From Behind Hurts Carpenter's Chances Sunday, ECR Heads Back Home For Indy 500 Month
Tom Blattler
Ed Carpenter Racing
May 5, 2013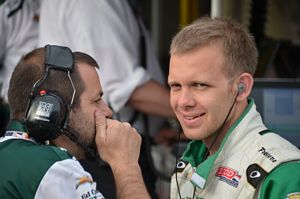 Bump From Behind Hurts Carpenter's CHance Sunday, ECR Heads Back Homes For Indy 500 Month
May 5th 2013 - SAO PAULO, Brazil – Ed Carpenter's day in the Sao Paulo Indy 300 wasn't what he was hoped for Sunday as the team owner/driver of the No. 20 Fuzzy's Ultra Premium Vodka Chevrolet was awarded with a 23rd place finish.
Carpenter, who started 14th in the 75-lap event, looked to be in good shape with a conservative pit stop strategy in the middle of the fourth contest in the 19-event IZOD IndyCar Series.
But, on the 23rd lap, Carpenter's machine was forced in the turn one wall when he was struck from behind following the second caution period. Carpenter fought his way back up into the top-15 by the halfway period in the Brazilian street event with impressive lap times in racing the likes of Scott Dixon, Alex Tagliani, Charlie Kimball and Josef Newgarden. The Fuzzy's crew also was quick on its pit stops Sunday to help Ed gain positions.
Unfortunately, Carpenter had to make a late pit stop in the race when his machine clipped an outside wall with the left rear tire. The impact bent a toe link on the rear suspension. The Fuzzy's crew made the appropriate changes and Ed was able to take the checkered flag for the four consecutive race of the 2013 season.
"We were running some very competitive laps in the middle of race, but on a restart, I got pushed into the outside wall in turn one," said Carpenter, winner of the last oval race in the IZOD Indy Car Series. "I thought I was going to make it through the incident okay. Then someone slid into me and I nipped the wall. At the end, we were playing the fuel strategy pretty well but I clipped the wall with the left rear. It bent the toe link, so we pitted for a few laps. It was a good exercise for the crew but it cost us some positions.
"Overall, the results don't show how well the Fuzzy's car ran today. But we have to get back home now and get ready for the 500. Everyone on the team is excited about going to IMS including me. I think we are well prepared for the 500 this year."
James Hinchcliffe won the Sao Paulo event in a wild last-lap pass over Takuma Sato followed by Marco Andretti, Oriol Servia and Newgarden.
The Ed Carpenter Racing team returns to Indianapolis Monday and begins preparations for the biggest race of the year, the 97th running of the Indianapolis 500-Mile Race. By Thursday, the ECR/Fuzzy's crew will be moved into their Indianapolis Motor Speedway garages and Indy 500 practice runs begin Saturday, May 11, at noon EDT on the world's most famous racing facility.
Connect with The Crittenden Automotive Library