Meet the Crew: Jeremy Burtner
Meet the Crew: Jeremy Burtner
Tom Blattler
Ed Carpenter Racing
June 14, 2013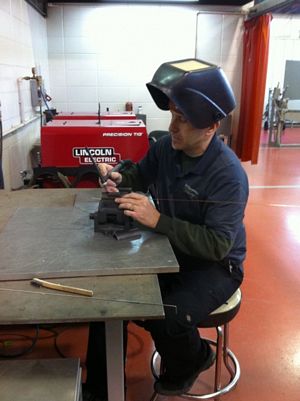 Jeremy Burtner has a lot of experience behind the welder's helmet
June 14th 2013 - JEREMY BURTNER, Fabricator/Mechanic
An excellent fabricator, Burtner returns to the IZOD IndyCar Series after several years employed with John Force Racing on the NHRA Full Throttle drag racing series…. The Indianapolis native spent many years with Target Chip Ganassi Racing in the Grand-Am Sports cars and IndyCar Series….. He started his racing career in 1993…. Began his racing career in the USAC midgets…. Also he worked with USAC Sprint Cars and Silver Crown cars…. Works on a variety of racing equipment at the ECR headquarters.
How did you get into racing?
"Actually, the first Indy 500 I went to was when I started on a team. I did listen to the race on the radio at home. I got into racing when I had a friend who was a mechanic working on my street car. He also worked for a USAC midget team. And he asked me if I would be interested in coming to the races with him one day. So I started up with Ralph Potter and it just escalated from there. That was back in 1993. I actually started helping them at the end of 1992 when Stevie Reeves won the USAC midget championship. Then I began going to more races after that. I was an electrician at the time and started taking more vacation time from work to go to the races. I worked as an electrician for four years out of high school. But I was calling in sick to go to races. So I figured maybe I better get into the racing business. The first job I got in racing was with Godfrey Motorsports in Brownsburg and we were building sprint cars and midgets in Joe Saldana's building."
What were you doing at that first full-time job?
"We built everything from scratch. We would bend everything and fit it and weld it. At that time, I wasn't a welder so I was mostly bending tubing. Then I also was fitting the bodies on the cars. The first year I was there, and there were three of us, we built over 1,000 cars. Keith Kunz was running their cars and Keith went on to be pretty famous in the midgets. In the beginning, they just made dirt cars. Then they expanded to building pavement cars and also Silver Crown cars. Their mainstay was midgets and winged sprint cars. World of Outlaws, All-Star Series, and local Indiana guys were the customers. They also had a speed shop there too. I worked for John Godfrey for about three years building cars. I moved to Ralph Potter's cars after that for a few years. I traveled to all of the USAC races, driving the truck, working on about everything at the race track. I moved to Sinden Racing as a fabricator later. They had their own IndyCar team and transferred into the entertainment side of the business too. They wanted an IndyCar to go to all of the John Mellencamp concerts. At that time, I was the only single guy so I was drafted to do that for a couple of months.
So, you were involved in IndyCar racing but on the two-seater side?
"I was at Sinden Racing when the two-seater program began. We cut a car apart to stretch the cars. I don't think anyone would have thought that program would have lasted this long and that successful. After working at Sinden, I went to work for a shipping with (former USAC racer) Jay Drake. He had a friend in California who wanted to expand his shipping business. He wanted to franchise it and his first model was in Indianapolis. I did that for a little while and came to find out that shipping business wasn't really for me. It's a dog-eat-dog business and I really wasn't prepared for that. Then I got on at Ganassi in 2004. That is when they started their Grand-Am Series program."
What all did you do at Ganassi's organization?
"I was the traveling fabricator on the Grand-Am Series. Then the next year they decided they wanted a traveling fabricator for the IndyCar Series. So, in 2005, 2007, 2008, 2009, I was traveling to both series. It was pretty busy. When I started there, it was the Toyota years with three cars. It seemed like we were crashing a lot of cars back then. So I got the ups with wins and the downs with crashes. I worked with a lot of different drivers. I really liked working with Scott Pruett and Scott Dixon. Those guys were very professional."
Where did you go after leaving Ganassi?
"I moved over to John Force Racing as a stay at home fabricator. I learned a lot of things there. There were things I learned at Force's that I wouldn't have learned in the open-wheel series. They build their own chassis and do their own Funny Car bodies too. They got the shells of the bodies in California then we would do everything on the inside and the outside at the shop. They do their own painting and make their own engines there too. They build their own heads there. At Force's, my main thing was building bodies for the Funny Cars. The chassis were another department. We would build about 12 to 15 bodies a year. Some of those cars were customer cars too."
Then you came to Ed Carpenter Racing?
"I have actually been around Ed since he had his driver's license. When he ran for Ralph Potter, I knew him then. It's been neat to see Ed basically grow up in the sport. I remember back at the Pikes Peak track and the midgets and the IndyCar were running together. I was standing at the infield building and Ed was there too. I watched the IndyCars run and he said,' I would really like to do that someday.' So it is neat to reflect back and remember a few things like that. When I first saw Ed in racing, he was driving third-quarter midgets. He ran Ralph's No. 3 midget then and we were at the 16th Street Speedway quite a bit."
What do you do at ECR now?
"I'm the stay-at-home fabricator here for Ed's team. Being a start-up team, there are always bits and pieces that you need during the season. Fortunately, we had a lot of the big pieces from Derrick (Walker, former ECR general manager) and his shop. We make items for the pit equipment. I'll make things for wickers, quick lifts, carts, and some other car parts. Believe it or not, even with the new car you aren't supposed to build new things. But I have a list of about 15 things that I will continue to work on."
What types of things are you involved in at the shop?
"I weld and do a lot of sheet metal work. I do some carbon work now as I learned a lot of that at Force's shop previously. But it's mainly welding and folding metal. Bret (Schmitt, ECR crew chief) gives me a good direction on what we will need for the future. He will give a sheet of things about twice a week. Then I have some deadlines that we need stuff done at a certain date."
What is the hardest part of the job?
"There really isn't one. Actually, this is the first job in racing for me where there are no glitches. And that is due to the planning and the organization. At ECR, it is organized and we don't try to do things that are not necessary. Being a small team, we keep things pretty tight. Sometimes I want to build something for the team but they can't use it because we don't have room for it. We only take one truck on the road to the races. I like working for a team that is this size. It is more like a family. In the bigger teams, you become just a number sometimes. You feel more gratitude when you win with a smaller team. I have come from the bigger teams and they don't work any harder than we do. Fabrication is more of a dying breed now. More guys want to be mechanics, working over the wall in pit stops and go on the road. I get a lot of satisfaction fine tuning the things I can get my hands on.
How would you describe a fabricator?
"You have to be creative and you have to be able to adapt. That is the most important quality. You have to think outside the box. To be a racing fabricator, it's not a production job. Every fabricator I have ever met has been a little off in the head. Including myself !! You have to be able to think differently. You always want to do something a little bit different. And always a little bit that the next guy is going to do. It's a pride thing. I know everyone likes to take pride in their work but I think fabricators go to be a little bit more unique."
Connect with The Crittenden Automotive Library