Carpenter Charges Early at Milwaukee Saturday, But Finishes 14th
Carpenter Charges Early at Milwaukee Saturday, But Finishes 14th
Tom Blattler
Ed Carpenter Racing
June 15, 2013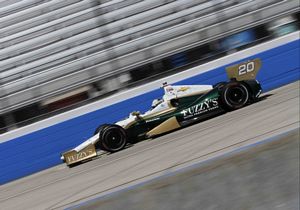 Ed's charge to the front comes up short at Milwaukee
June 15th 2013 - WEST ALLIS, Wis. – Ed Carpenter was on a charge Saturday at the legendary Milwaukee Mile in the Milwaukee IndyFest as the owner/driver of the No. 20 Fuzzy's Ultra Premium Vodka Chevrolet came from 20th to fifth in the first 93 laps.
But Carpenter's car's performance fell off in the second stint of the day as conditions changed rapidly on the sun-drenched racing surface. The Indy 500 pole winner had to make adjustments throughout the remainder of the 250-lap feature to return his mount to the early settings.
Rather than fighting for a top-five finishing position, Carpenter had to play catch-up before he finished 14th at the checkered flag. Defending series champion Ryan Hunter-Reay scored his second straight Milwaukee Mile win Saturday in leading a top-five sweep for the Chevrolet-powered machines.
"That was a long day for us," said Carpenter, who finished eighth last year at the Wisconsin State Fair Park. "I thought we were going to be good after the early stages. We were able to work our way pretty far up the charts (to fifth from 20th starting position)."
Carpenter was a little upset with himself at the second pit stop Saturday, as he attempted to pull quickly into the pit box.
"I slid a little on our second stop and I missed my marks," he said. "So we lost a couple of spots then. I got loose on a restart and lost a few more spots. We were just too loose that entire stint after being good early. Then I got in the marbles and hit the wall in turn four. And it just got away from us from there."
The ECR/Fuzzy's Vodka crew was quick on its first pit stop Saturday by gaining two positions on lap 67. But the wing adjustment on the pit stop didn't help Carpenter and the team worked hard to adjust the Fuzzy's Chevy back to the early setups. On the final stint at lap 211, Ed believed the car returned to the earlier speed but it was too late for a top-ten finish.
"It's so disappointing because it looked like we were going to have such a good day," said Carpenter. "At the end, it feels like a missed opportunity today. We'll regroup and be ready for Iowa next week. Hope for a strong run there."
The ECR/Fuzzy's Vodka team returns to its Indianapolis headquarters Saturday night and prepares for next Sunday's Iowa Corn Indy 250 at the fast Iowa Speedway, located east of Des Moines. The 250-lapper will be televised live on ABC-TV at 2:30 p.m. EDT. The Iowa weekend is highlighted by special qualifying heat races Saturday evening.
Connect with The Crittenden Automotive Library