Meet the Crew: Jeff Hughes
Meet the Crew: Chris Hogue
Tom Blattler
Ed Carpenter Racing
August 8, 2013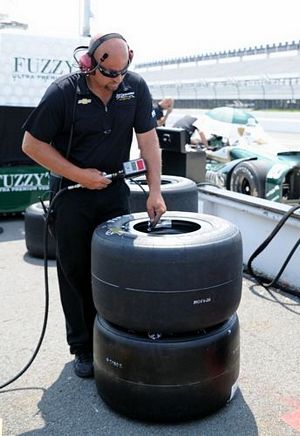 Jeff also handles the Firestone tires for ECR in addition to driving the semi to the races.
August 8th 2013 - JEFF HUGHES, Logistics/Tire Specialist
A native of Lafayette, Ind., Hughes competed in drag racing for 15 years as a hobby…. Served with Andretti Autosport and worked with drivers Tony Kanaan, Danica Patrick, Mike Conway and Ryan Hunter-Reay….Hughes is one of two drivers of the ECR transporter traveling to each race… Jeff handles all of the team's Firestone race tires throughout a race weekend, adjusting air pressures during the on-track activities… He and Matt Giese set up the pit area for ECR prior to each event.
Were you into cars as a kid?
"I played a little football and baseball when I was a little kid. But I started getting into cars in high school in Brownsburg. I was building hot rods with my buddies. We built a lot of Mopar stuff but I had a '74 Chevelle. My buddies had a '73 Challenger and '68 Charger. We would go and cruise on Madison and even street race sometimes. We raced at IRP (Lucas Oil Raceway now) in bracket races. I had a Chevy Laguna with a small block engine. But I wanted a big block. My dad said the small block would work fine. So I went and blew it up. My dad wasn't really into cars like I was. He ran the water treatment plant on the side of Indianapolis. He and my uncle built houses on the side too. I helped them on the construction side. When I got out of high school, I built crates for my dad's company too. There were a lot of wood crates. We built custom stuff by hand for many companies."
How did you get involved in racing?
"Well, I did first work at the Speedway. I did some maintenance on the old hotel. But they tore it down. Probably the best thing they could have done. (laughs). I guess it was actually built as a temporary hotel. They actually had plumbing built under ground for a big hotel to be built behind it. But it was never built. The hotel was a temporary building but it stayed up forever. I think it was there about 60 some years. There was talk of building a big hotel in Turn 2 and condos on the golf course, but that never happened. So I worked there for about five years."
When did you get with a racing team?
"My buddy got a job with Don Prudhomme and Larry Dixon's drag racing team. He said to me, 'All you need is a CDL driver's license for the big rigs and those guys will hire you in drag racing. Those teams were always looking for guys with CDLs. So, I went and got my CDL license without even taking a driver's school. I was working for a buddy who built cellphone towers and he had way too many employees. I was getting pretty bored. I passed the written test for the CDL the first time. I took the driving test without really driving a big rig before. I missed the first time because I nicked a curb with the trailer's back wheel. That was an instant failure. I passed everything else up to that point. I went back and got the CDL on the second time. So I started driving semis for a friend's company and I was hauling containers. I then worked for Sun Belt for some time. So a friend then called and said that Andretti Autosport was looking for some truck drivers. I applied and got the job with Danica's team the first year in 2007. In the third race, we won Japan so I was pretty happy with that. Then they switched me to Marco's team after Indy. I ran with J-Dog (Jason Richardson) in the Marco's semi. I moved onto Tony's (Kanaan) car for two years. I was driving the truck and working with the tires all of the time at Andretti back then. I was laid off when the Andretti team cut back to three cars, so I applied with Ed's team."
How did you hear about the position at ECR?
"Ziggy (Paul Harcus) at Andretti heard that Ed was starting up a team with Derrick Walker. And Ziggy put in a good word for me and I moved over here. I didn't know Matt (Giese, the other ECR truck driver) that well but I had met him when he was at Penske. We have worked together well here at Ed's team. We switch off driving on the longer trips like the upcoming one to Sonoma. On the little trips, one or the other usually drives the whole distance. I actually sleep real well in the back of the truck when Matt is driving. He sleeps when I drive. Like going to Mid-Ohio, I drove all the way over and Matt drove back. And I got to sleep. It was great."
What do you do with the truck and the equipment when you get parked at the track?
"Usually at the track, there is a lot set up for the washing of the transporters. It's around or at the track. They wash the trucks and you pull in the next day. At Pocono, they washed the trucks right on the race track. I had never done that before. Matt and I then put up the tent on the truck and get all of the equipment out. We leave the race cars up on the top of the trailer and get everything else out. Then we have to set up our team's pit area at every race. We measure the fuel tank setting so we know where Ed would stop on a pit stop. The INDYCAR people give you the center line of the pit box and you are usually about 18 inches behind that line for the fuel tank. Then you get the angle of the tank how you want it. After that, we set the pit stand for the engineers and some other equipment too. The rest of the crew helps us take the tent down at the end of the race. If we are working out of a garage, it only takes about an hour to pack up everything after the race. It's a little longer when you take the tent down after the race. Sometimes we get the tent down before the race is started."
You also handle the Firestone tires on race weekend. What does that include?
"I drop off the wheels immediately to Firestone to get the tires mounted when we arrive at the track. Then I pick them up a few hours later. They fill the tires with their own air. But we deflate the tires and add nitrogen to the tires so they are more stable. We want drier air in the tires. We try to eliminate the water inside the tires with the nitrogen. With the oval tracks, the right side tires have a big stagger with more air pressure than the inside tires. We set the pressure on the outside tires for 46 or 48 pounds and then we bleed the down for the start of the run since the tires will grow to 48 or so when they get hot. The tires really grow a lot so I will set the pressure in the high 30s for the outside to start. But the inside tires only grow about three pounds. We usually start around 23 or 24 pounds for the inside tires. They only want about 28 pounds or so total for that side. But, on a road course, you are looking at 23 pounds in the front tires and maybe only 20 in the rear. So sometimes you only put in 15 pounds in the rear and 19 in the front. I think most of the teams run nitrogen in their tires than the Firestone air."
Connect with The Crittenden Automotive Library