Tough Track Conditions Hinder Carpenter's Mid-Ohio Runs Friday
Tough Track Conditions Hinder Carpenter's Mid-Ohio Runs Friday
Tom Blattler
Ed Carpenter Racing
August 2, 2013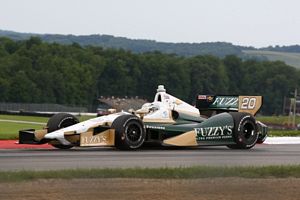 Tough Conditions hurt Ed's runs Friday at Mid-Ohio
August 2nd 2013 - LEXINGTON, OHIO – Ed Carpenter jumped out his No. 20 Fuzzy's Ultra Premium Vodka Chevrolet and shook his head in amazement after a frustrating day at the 2.25-mile, 13-turn Mid-Ohio Sports Course, site of Sunday's 200-mile IZOD IndyCar Series feature.
Carpenter, the IZOD IndyCar Series' only team owner/driver, was disappointed with his performance on the tricky track surface in unusually cool and overcast weather conditions. Ed recorded 45 laps in the two 45-minute practice runs Friday at the historic permanent road course just one hour north of Columbus.
Carpenter drove his No. 20 ECR/Fuzzy's Vodka Chevrolet to a best time of one minute, 7.682 seconds (120.102 m.p.h.) in the Friday morning practice for the 23rd position. The Butler University graduate was a tad bit short in the warmer afternoon laps with a 1:07.7526 and a speed of 119.978 m.p.h., also 23rd in the second session.
Will Power set the fastest time of the day with a 124.231 clocking followed by defending race winner Scott Dixon, reigning IndyCar Series champion Ryan Hunter-Reay, Dario Franchitti and rookie Luca Filippi.
Qualifying is set for 2 p.m. EDT Saturday with two groups competing to advance for the top six spots, followed by the top 12 drivers battling for positions in the Firestone Fast Six qualifying finale. The Indy 200 will be televised live on NBC Sports Network beginning at 3 p.m. EDT Sunday.
"It was pretty disappointing today for our Fuzzy's Vodka team," said Carpenter. "We had a few issues on the test day Wednesday, but I thought we had everything figured out for today's practice. At the end of the test, we were much closer to the front runners on time than we are now. The track surface is acting like it did last year here. It has been slick at the start of every session and then it gets better as the IndyCars make more laps. Regardless of the cars we follow on the track or the weather conditions, this place feels the same at the start of each session. We have had American LeMans cars here and then we have had Indy Lights cars here and the track does the same thing. We have to be out there for a little while for the track to come back in. It takes the whole session to get the track to come back in with a proper grip level. We don't have this type of trouble when we follow Indy Lights at other tracks. It's just kind of weird, to be honest."
Connect with The Crittenden Automotive Library