Clutch Woes End Carpenter's Day at Houston, Team Focused On Fontana Now
Clutch Woes End Carpenter's Day at Houston, Team Focused On Fontana Now
Tom Blattler
Ed Carpenter Racing
October 6, 2013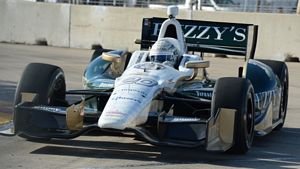 Clutch trouble knocked Carpenter out Sunday at Houston.
October 6th 2013 - HOUSTON – Ed Carpenter looked to have a better race going Sunday in the weekend's second IZOD IndyCar Series event at the Shell/Pennzoil Grand Prix of Houston.
While the series' only team owner/driver drove twice as many laps as Saturday, the driver of the No. 20 Fuzzy's Ultra Premium Vodka Chevrolet was forced to park his machine at lap 61 due to clutch trouble.
Starting 18th in the 24-car field, Carpenter enjoyed a better standing start than Saturday when his mount clipped the stalled car of James Hinchcliffe, forcing the ECR/Fuzzy's Vodka crew to replace the entire right rear suspension of his car. Carpenter was able to complete 30 laps in Saturday's 90-lap feature.
On Sunday, Carpenter moved up to 15th by lap eight and Ed ran 17th before the team's first pit stop. The rough track surface forced Carpenter to pit on lap 53 for a new nose on his car.
Finally, the ECR/Fuzzy's car began to experience clutch trouble by lap 60 and the team decided to call it a day after the car would not start in the pit lane. Will Power won the 90-lap race that ended with a horrific crash for four-time IndyCar Series champion Dario Franchitti. The popular Scotsman was talking to safety workers after the crash but was transported to a Houston hospital for observation.
While the Houston doubleheader proved to a rough weekend for the ECR/Fuzzy's Vodka team, the Indianapolis-based operation is now focused on defending its race victory from last year on the fast, high-banked two-mile oval track east of Los Angeles.
The MAVTV 500 event will be televised live on NBC Sports Network on Saturday, October 19, beginning at 8 p.m. EDT with the IndyCar Series title up for grabs. Scott Dixon leads the current points. Tony Kanaan and Dixon will be eligible for the $250,000 bonus if they win at Fontana in the Fuzzy's Triple Crown award. Kanaan won the Indy 500 in May with Dixon victorious at Pocono in July.
"It was a disappointing day for our Fuzzy's Vodka team with a clutch problem in the pits on the last stop," said Carpenter, the 2012 MAVTV 500 winner in Fontana, Calif. "I couldn't get the car out of gear. We had something fall off the car from the bumpy track too and had to change a nose. It was a rough weekend here in Houston after yesterday's start. The team just said we had a bad race (Baltimore) before Fontana last year and came back to win that 500-miler. Let's hope that can happen again in two weeks. My job for Fuzzy's is to be the spoiler for that $250,000 bonus for Tony (Kanaan) and Scott (Dixon) with a win again at Fontana. They are after two-thirds of the Fuzzy's Triple Crown award there. I think we have a strong car again for that event."
Connect with The Crittenden Automotive Library