Carpenter Team Named Co-Winners in Dan Wheldon Pro-Am Karting Challenge
Carpenter Team Named Co-Winners in Dan Wheldon Pro-Am Karting Challenge
Tom Blattler
Ed Carpenter Racing
October 26, 2013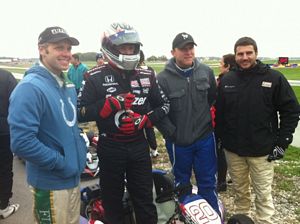 Ed teamed with Blair Julian, Taylor Kiel and Adam Rozvazzini in the Wheldon Pro-Am.
October 26th 2013 - NEW CASTLE, Ind. - With two laps to go in the Dan Wheldon Pro Am Karting Challenge, five karts had a chance to come away with the win.
But shortly after the white flag, the lead three karts made contact, sending two into the grass and allowing Big Machine Records' Marino Franchitti and Machine of Awesome's Ed Carpenter to sneak by and take the checkered flag.
"I saw they had a bit of an issue in the front and it was able to get me back in the lead and that was enough to hold on," said Franchitti, who was filling in for his brother Dario. "It was just great racing all days and a great way to celebrate Dan and his life. I just wish he were here racing with us because he would have been kicking all of our asses."
Though Franchitti's kart -- which he shared with Big Machine CEO Scott Borchetta, Mark Borchetta and Clive Wheldon, father of Dan Wheldon -- was the first to take the checkered flag. Officials originally ruled it had short cut the course on the final lap.
After determining that the Big Machine kart had not been the offending team, officials declared both Big Machine and Machine of Awesome co-winners of the 100-minute charity race, which saw each team compete in four segments driven by a different Pro or Amateur driver.
"We got second," said Carpenter, who teamed with Target Chip Ganassi Racing crew members Blair Julian and Adam Rovazzini and Schmidt Peterson Motorsports crew member Taylor Kiel. "There was a timing issue at the end. It was really good racing. It was a really good event and something we can continue for a long time.
"We raced against each other all year long, but this is a more relaxed setting and we were able to raise money for a charity that Dan loved -- The Alzheimer's Association. I feel like we did a lot of good today."
Teams were allowed to buy their way back on to the lead lap by donating to the Alzheimer's Association, which helped cause further confusion over the final segment.
Second-place was awarded to the American Honda team of Josef Newgarden, Dave Furst, Dan Layton and 16-year-old kart racer Chase Jones. Third-place was the SG Football Helmets/AL Consulting team of Tristan Vautier, Anton Julian, P.J. Chesson and Mark Dismore Jr.
The biggest winner, of course, was the Alzheimer's Association, which was the beneficiary of the $100,000 raised by the event's sponsors and participants.
"Overall, I'm so happy and just feel blessed to be part of this and carry on Dan's legacy in so many ways, no only his passion for racing, but also to raise awareness for Alzheimer's," said Wheldon's widow, Susie, who organized the event.
Connect with The Crittenden Automotive Library