The Long And Grinding Road
The Long And Grinding Road
Tom Blattler
Ed Carpenter Racing
March 4, 2014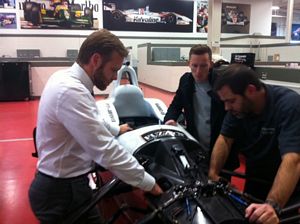 Jeff Hughes and Matt Giese are ECR's truck drivers and they handle other duties too.
March 4th 2014 - Matt Giese drove his entire driving stint in the state of Texas on one highway, and Jeff Hughes piloted the Ed Carpenter Racing tractor/trailer mostly in a heavy fog from New Orleans to Tallahassee, Fla.
Those are just a couple of the travel nuggets for the two ECR truck drivers on the recent testing trek that included trips from Indianapolis to Fontana, Calif., to Sebring, Fla., to Indianapolis to Fontana to Sonoma, Calif., and back to Indianapolis.
With 17 days on the road and 10,435 miles travel, one would think the grind along the highway pavement is grueling and boring. But Giese and Hughes take it in stride. That's part of the racing business and their jobs.
Of course, the driving of the big rig is just a part of duties for Giese and Hughes. Giese is the fueler on pit stops for the No. 20 Fuzzy's Ultra Premium Vodka Chevrolet with drivers Ed Carpenter and Mike Conway. And Hughes handles all of the tire preparation and tire adjustments during an IndyCar Series race for ECR.
Due to Department of Transportation (DOT) regulations, Giese and Hughes must drive selected hours. Then, when they are done driving their stint, they find other things to do to occupy their time on the road.
"Matt and I just switch at a designation spot on the road," said Hughes, who has driven big rigs for nine years. "We usually refuel when we switch driving too. We try to sleep in the back but it's only for a couple of hours at a time. I try to read sometimes, listen to the radio or play games on my cellphone when I am not driving. But in the desert or mountains, cell service is poor sometimes too."
Giese says the same when he is riding along. But he is more into the radio.
"I have been driving the rigs for about 17 years," said Giese, who traveled the tough World of Outlaws sprint car series for many years. "We just get used to it after a while. I listen to the radio most of the time when I'm not driving. It's more relaxing for me."
And Giese admits that staying on one road for his stint can be pretty amazing.
"On this testing trip, I actually drove one run on one highway, I-10, in Texas," Giese explained. "I started in El Paso and stopped just before the Louisiana border. You forget how long Texas is until you start to drive it. But it wasn't too bad because the weather was okay for that run. The toughest driving is when the weather is bad."
And Hughes ran into some tough weather right after Giese's stint.
"The fog really rolled in from New Orleans on I-10 through Mississippi and A "You really have to concentrate on the road and the surroundings when that happened. Luckily, it was in the middle of the night and traffic wasn't too bad. When we reached Florida, it started to ease up. Matt got back in the driver's seat at Tallahassee."
The fuel tank on the ECR tractor contains 170 gallons of diesel fuel, but fueling the rig doesn't always take the same amount of time.
"The tank holds 170 gallons but it takes longer to fuel at some places," Hughes said. "The pumps can be slow so it takes much longer than usual. Or you have to wait in line to get the fuel. Some truck stops can be very busy."
But Hughes admits the newer trucks actually have computer that calculate the mileage and driver's time.
"Some of the new trucks actually are computerized so it will only allow a driver to drive a certain about of time per day," he said. "Then the truck will shut down."
"After we get to a track, the rules say we have to stop working," said Giese. "So we stop and come back later to do other work. We'll set up the pit area or the garage or actually put up the tent. We'll unload the trailer too. We try to get most of the stuff ready for the crew when they get to the track."
Setting up the team's pit area is much more precise during a race weekend than at a testing session.
"Tests aren't as important as the races when you set up a pit area," said Hughes. "For a race, INDYCAR designates a number of feet per pit stall and we have to measure everything to fit the space including the spot for the fuel rig."
Giese explains that the set time can vary for certain races as some track have garages and, at other tracks, a team must utilize its own tent.
"It takes about four hours total to set up everything at the track," Matt said. "That includes unloading everything, putting up the tent outside as well as setting up the pit area. But we have it down pretty well now."
Connect with The Crittenden Automotive Library