Conway Returns To IMS with Renewed Excitement for Grand Prix Weekend
Conway Returns To IMS with Renewed Excitement for Grand Prix Weekend
Tom Blattler
Ed Carpenter Racing
May 8, 2014

Microsoft Word version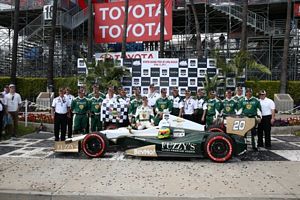 Conway comes back to IMS this weekend for first time since 2012.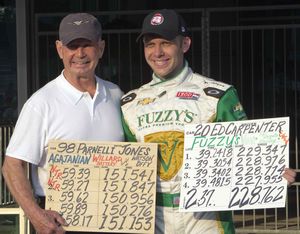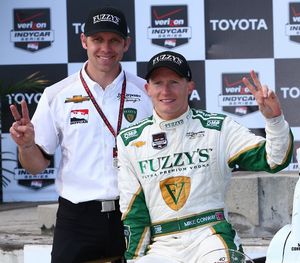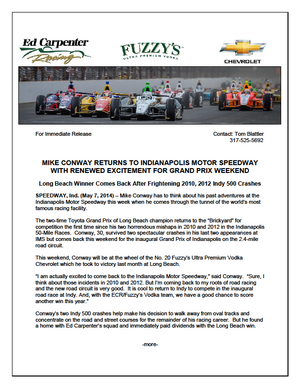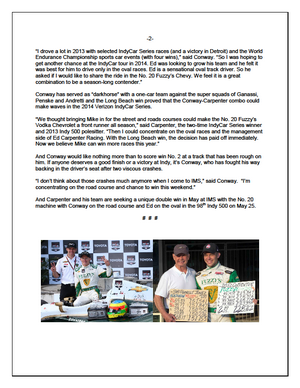 May 8th 2014 - SPEEDWAY, Ind. – Mike Conway has to think about his past adventures at the Indianapolis Motor Speedway this week when he comes through the tunnel of the world's most famous racing facility.
The two-time Toyota Grand Prix of Long Beach champion returns to the "Brickyard" for competition the first time since his two horrendous mishaps in 2010 and 2012 in the Indianapolis 50-Mile Races.
Conway, 30, survived two spectacular crashes in his last two appearances at IMS but comes back this weekend for the inaugural Grand Prix of Indianapolis on the 2.4-mile road circuit.
This weekend, Conway will be at the wheel of the No. 20 Fuzzy's Ultra Premium Vodka Chevrolet which he took to victory last month at Long Beach.
"I am actually excited to come back to the Indianapolis Motor Speedway," said Conway. "Sure, I think about those incidents in 2010 and 2012. But I'm coming back to my roots of road racing and the new road circuit is very good. It is cool to return to Indy to compete in the inaugural road race at Indy. And, with the ECR/Fuzzy's Vodka team, we have a good chance to score another win this year."
Conway's two Indy 500 crashes helped make his decision to walk away from oval tracks and concentrate on the road and street courses for the remainder of his racing career. But he found a home with Ed Carpenter's squad and immediately paid dividends with the Long Beach win.
"I drove a lot in 2013 with selected IndyCar Series races (and a victory in Detroit) and the World Endurance Championship sports car events (with four wins)," said Conway. "So I was hoping to get another chance at the IndyCar tour in 2014. Ed was looking to grow his team and he felt it was best for him to drive only in the oval races. Ed is a sensational oval track driver. So he asked if I would like to share the ride in the No. 20 Fuzzy's Chevy. We feel it is a great combination to be a season-long contender."
Conway has served as "darkhorse" with a one-car team against the super squads of Ganassi, Penske and Andretti and the Long Beach win proved that the Conway-Carpenter combo could make waves in the 2014 Verizon IndyCar Series.
"We thought bringing Mike in for the street and roads courses could make the No. 20 Fuzzy's Vodka Chevrolet a front runner all season," said Carpenter, the two-time IndyCar Series winner and 2013 Indy 500 polesitter. "Then I could concentrate on the oval races and the management side of Ed Carpenter Racing. With the Long Beach win, the decision has paid off immediately. Now we believe Mike can win more races this year."
And Conway would like nothing more than to score win No. 2 at a track that has been rough on him. If anyone deserves a good finish or a victory at Indy, it's Conway, who has fought his way backing in the driver's seat after two viscous crashes.
"I don't think about those crashes much anymore when I come to IMS," said Conway. "I'm concentrating on the road course and chance to win this weekend."
And Carpenter and his team are seeking a unique double win in May at IMS with the No. 20 machine with Conway on the road course and Ed on the oval in the 98th Indy 500 on May 25.
Connect with The Crittenden Automotive Library