Carpenter No Stranger to Iowa Short Tracks, Ready For Iowa Speedway
Carpenter No Stranger to Iowa Short Tracks, Ready For Iowa Speedway
Tom Blattler
Ed Carpenter Racing
July 8, 2014

Microsoft Word version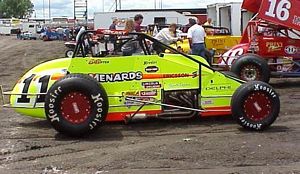 Ed came to race in Iowa some 14 years ago in USAC Silver Crown too.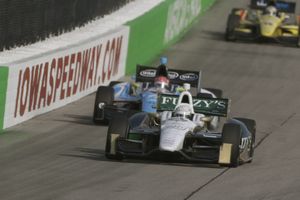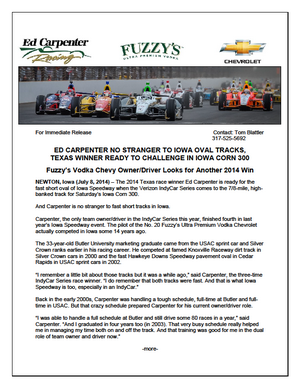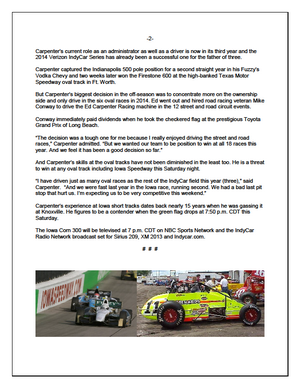 July 8th 2014 - NEWTON, Iowa – The 2014 Texas race winner Ed Carpenter is ready for the fast short oval of Iowa Speedway when the Verizon IndyCar Series comes to the 7/8-mile, high-banked track for Saturday's Iowa Corn 300.
And Carpenter is no stranger to fast short tracks in Iowa.
Carpenter, the only team owner/driver in the IndyCar Series this year, finished fourth in last year's Iowa Speedway event. The pilot of the No. 20 Fuzzy's Ultra Premium Vodka Chevrolet actually competed in Iowa some 14 years ago.
The 33-year-old Butler University marketing graduate came from the USAC sprint car and Silver Crown ranks earlier in his racing career. He competed at famed Knoxville Raceway dirt track in Silver Crown cars in 2000 and the fast Hawkeye Downs Speedway pavement oval in Cedar Rapids in USAC sprint cars in 2002.
"I remember a little bit about those tracks but it was a while ago," said Carpenter, the three-time IndyCar Series race winner. "I do remember that both tracks were fast. And that is what Iowa Speedway is too, especially in an IndyCar."
Back in the early 2000s, Carpenter was handling a tough schedule, full-time at Butler and full-time in USAC. But that crazy schedule prepared Carpenter for his current owner/driver role.
"I was able to handle a full schedule at Butler and still drive some 80 races in a year," said Carpenter. "And I graduated in four years too (in 2003). That very busy schedule really helped me in managing my time both on and off the track. And that training was good for me in the dual role of team owner and driver now."
Carpenter's current role as an administrator as well as a driver is now in its third year and the 2014 Verizon IndyCar Series has already been a successful one for the father of three. Carpenter captured the Indianapolis 500 pole position for a second straight year in his Fuzzy's Vodka Chevy and two weeks later won the Firestone 600 at the high-banked Texas Motor Speedway oval track in Ft. Worth.
But Carpenter's biggest decision in the off-season was to concentrate more on the ownership side and only drive in the six oval races in 2014. Ed went out and hired road racing veteran Mike Conway to drive the Ed Carpenter Racing machine in the 12 street and road circuit events.
Conway immediately paid dividends when he took the checkered flag at the prestigious Toyota Grand Prix of Long Beach.
"The decision was a tough one for me because I really enjoyed driving the street and road races," Carpenter admitted. "But we wanted our team to be position to win at all 18 races this year. And we feel it has been a good decision so far."
And Carpenter's skills at the oval tracks have not been diminished in the least too. He is a threat to win at any oval track including Iowa Speedway this Saturday night.
"I have driven just as many oval races as the rest of the IndyCar field this year (three)," said Carpenter. "And we were fast last year in the Iowa race, running second. We had a bad last pit stop that hurt us. I'm expecting us to be very competitive this weekend."
Carpenter's experience at Iowa short tracks dates back nearly 15 years when he was gassing it at Knoxville. He figures to be a contender when the green flag drops at 7:50 p.m. CDT this Saturday.
The Iowa Corn 300 will be televised at 7 p.m. CDT on NBC Sports Network and the IndyCar Radio Network broadcast set for Sirius 209, XM 2013 and Indycar.com.
Connect with The Crittenden Automotive Library