Akinori Ogata To Make NASCAR Camping World Truck Series Debut With Win-Tron Racing At Phoenix
Akinori Ogata To Make NASCAR Camping World Truck Series Debut With Win-Tron Racing At Phoenix
Chris Knight
Knight Motorsports Management
Win-Tron Racing
November 5, 2014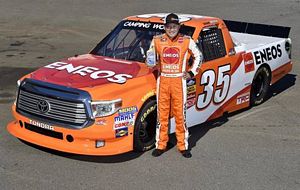 Akinori Ogata, driver of the No. 35 ENEOS Toyota Tundra for Win-Tron Racing in the NASCAR Camping World Truck Series (NCWTS).
AVONDALE, Arizona (November 5, 2014)
- - Officials from Win-Tron Racing announced today that Japanese racer Akinori Ogata will make his NASCAR Camping World Truck Series (NCWTS) debut in Friday night's Lucas Oil 150 from Phoenix (Ariz.) International Raceway.
Ogata will bring longtime support from longtime marketing partner ENEOS, as his NASCAR advancement continues under the watchful eye of Win-Tron Racing.
Ogata's mission is to productively accelerate his learning curve that will allow him to compete in additional races for the Mooresville, North Carolina-based team in 2015.
ENEOS is the brand name for products manufactured and sold by JX Nippon Oil & Energy Corp., the largest oil company in Japan. ENEOS products are the highest quality lubricants available in the marketplace today. These products use advanced additive and base oil technology, the result of joint engineering and research with all of the Japanese automotive manufactures. ENEOS lubricants provide exceptional performance, power and protection for a wide variety of applications including race cars, motorcycles and street automobiles.
Ogata, a native of Kanagawa, Japan, started racing over 27 years ago in his home country of Japan, and through the past three decades, he's steadily built a resume and recently moved to the United States to set forth his dream of competing in NASCAR.
This year, he has competed in three NASCAR K&N Pro Series East races this season, as well as short track races across North Carolina. Since his last K&N race at Iowa Speedway this summer, Ogata turned his concentration towards making his debut in one of NASCAR's national series.
This weekend, he'll make that goal a reality in the No. 35 ENEOS Toyota Tundra.
"I'm very excited about making my NASCAR Camping World Truck Series debut at Phoenix," said Ogata. "Competing at this level is not going to be an easy task, but I feel that I'm surrounded by great people at Win-Tron Racing."
He added, "We haven't set any expectations for the race. We know we're in the race, but I have a lot to learn. I just want to get familiar with the truck and keep improving with every run we make and (every) lap turned. If we have a good showing at Phoenix, the doors will open for next season allowing me to continue and expand my (NASCAR) horizons."
Nate Thiesse, co-truck owner of Win-Tron Racing said the team is eager to help Ogata accomplish his goals, but more importantly, take the checkered flag in the Lucas Oil 150.
"It's a pleasure to welcome Akinori and ENEOS to the Win-Tron Racing family," he said. "This is a huge opportunity for him and all of his supporters. Our goal is to have a productive, respectable race and see the checkered flag on Friday night. If we can do that, we've succeeded."
Mark Rette will serve as crew chief for Ogata in the 21st race of the season.
The Lucas Oil 150 (150 miles / 150 laps) is the 21st of 22 races on the 2014 NASCAR Camping World Truck Series schedule. The event will be televised live on FOX Sports 1, MRN Radio and SiriusXM Satellite Radio Channel 90 on Friday night, November 7 beginning at 8:30 p.m. The green flag is scheduled to drop at approximately 8:48 p.m. All times Eastern.
Follow Win-Tron Racing on Twitter @WinTronRacing or log on to Win-TronRacing.com.
For more on Akinori Ogata, please visit AkinoriOgata.com.
Ogata tweets too, follow him @AkinoriOgata.
About ENEOS:
ENEOS is the corporate brand name of JX Nippon Oil & Energy Corporation, the largest oil company in Japan. ENEOS brand motor oil is developed to exceed the highest standards of the automotive industry. ENEOS product ranges from motor oil that offers optimal performance protection under the most extreme temperature variations, to ecologically friendly motor oil that provides superior fuel saving capacity. For more information please visit eneos.us.
About Win-Tron Racing:
Located in Mooresville, North Carolina, Win-Tron Racing (Win-TronRacing.com / @WinTronRacing) is the home of one the most potent ARCA Racing Series presented by Menards single-car operations. Owned by former racers Kevin Cywinski and Nate Thiesse, the team since has acquired the assets of County Joe Racing, becoming a favorable fixture on the circuit. Since Win-Tron Racing's inception in 2007, the team has hosted a variety of drivers including leading drivers James Buescher, Blake Bjorklund, Justin Marks, Matt Merrell and Brandon McReynolds to their first career ARCA victories. In 2014, the team will begin its eighth year of competition with a full-time presence in the ARCA Racing Series presented by Menards and the NASCAR Camping World Truck Series.
--30—
WIN-TRON MEDIA CONTACT:
Name: Nate Thiesse
Email: WinTronRacing@aol.com
Connect with The Crittenden Automotive Library