Dylan Lupton: One More Shot
Dylan Lupton: One More Shot
Chris Knight
Knight Motorsports Management
November 5, 2014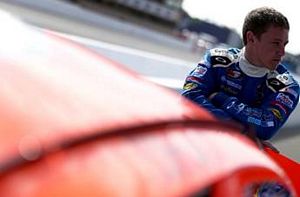 Dylan Lupton (@LuptonDylan), driver of the No. 9 Sunrise Ford / Go Pro / Lucas Oil Ford Fusion in the NASCAR K&N Pro Series West (NKNPSW) division for Sunrise Ford Racing.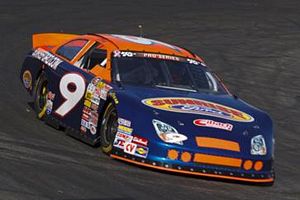 The No. 9 Sunrise Ford / Go Pro / Lucas Oil Ford Fusion driven by Dylan Lupton (@LuptonDylan) in the NASCAR K&N Pro Series West (NKNPSW) division for Sunrise Ford Racing.
AVONDALE, Arizona (November 5, 2014)
- - A nearly flawless season for NASCAR Next driver Dylan Lupton (@LuptonDylan) will come to end in Thursday night's Casino Arizona 100 at Phoenix (Ariz.) International Raceway.
Lupton's sophomore season on the NASCAR K&N Pro Series West (NKNSW) tour has been magnificent. Entering Thursday night's season-finale, the 20-year old is eyeing his second victory of the season, but more importantly, he's looking to for a Hail Mary comeback and steal the K&N Pro Series West championship from veteran racer Greg Pursley.
"I'm excited to head to Phoenix, even though the points aren't in our favor," said Lupton, driver of the No. 9 Sunrise Ford / Go Pro / Lucas Oil Ford Fusion. "It's always a fun time heading out to Phoenix and camping out all weekend long there. This will be my fifth time there and I believe this is the most prepared we have been going into Phoenix, so looking to have a very fast race car.
"We've (almost) done it all this season. We won a race, led laps, finished inside the top-10, we're just missing a pole, but more importantly hoisting that championship trophy."
But in order raise the trophy and bring the Bob Bruncati-owned team the honors, Lupton's challenger must have a setback.
"Well, you go into the championship and you want it to be a neck-and-neck battle between the drivers fighting it out for the title," Lupton added. "Sure, we could have one hell of a battle between myself and Greg (Pursley), but we're not going to win a championship that way. He needs to have a little bad luck and we need to have a nearly perfect race.
"Having a perfect race is never easy. That's hard to put together no matter where you compete. But, this Sunrise Ford Racing team has been relentless on putting some of the best race cars on the track this season and nothing leads me to believe that they won't do the same on Thursday night."
Of course, Lupton is shy of the legal gambling age in the state of Arizona, but the youngster is hoping that some of their own gambles on the racetrack will lead the path to victory. Maybe in more ways than one.
"There's no hiding behind it that this race this week will be one of the most competitive races of the season, but that's a good thing," Lupton said. "It might provide chances. Chances that may mean taking a gamble. At this stage in the game, we have nothing to lose. I'm confident in our team. If we have an opportunity to win the race or yet, steal this championship, believe me, we won't be going down without a fight."
This week, Lupton will finish the season in the same place he started his championship bid, Phoenix International Raceway.
The unique, yet demanding 1.0-mile has proven to inscribe some of the best short track races on the tour. For Lupton, three of his four previous starts have resulted in less than pleasant finishes. However, earlier this year, Lupton's luck changed as he finished sixth in the season-opener after starting 11th.
However, it's going to take more than a suttle performance from February's event to keep Lupton's aim at his first stock car championship fixated.
"I really like Phoenix because it feels like two different racetracks," sounded Lupton. "Turns 1 and 2 are banked and more of a tighter corner, while corners 3 and 4 are flat and long. We haven't always had the best luck at Phoenix, but we were able to get a sixth place finish in the spring time. I think we have a great shot at running in the front as long as we get the car to be more on the free side later in the runs."
Entering the Casino Arizona 100, Lupton has yet to finish outside the top-10. After 13 races, the rising star has maneuvered one win, eight top-fives and 13 top-10 finishes, including completing all, but one lap. Should the team not be able to overtake Pursley for the coveted crown, the team knows it doesn't come from a lack of effort.
"Qualifying is going to be important this weekend because of how competitive the entry list looks," explained Lupton. "I think the first 50 laps everyone will be on cruise mode in the front and seeing how their cars change on the long runs. The last 50 laps however will show a lot of excitement and good battling like it has shown in the past.
"No matter what the outcome is on Thursday night, it's been a great year. And most of all, we can't forget that. These guys are some of the best in the business. They work hard and don't complain. All with the drive and passion to go racing and win races. That what drives me too. I need to remember that when I get behind the wheel Thursday night."
Following the checkered flag, Lupton will have some downtime for the Holidays, before revving up for what he hopes will be a successful, yet influential 2015 racing season.
"We're still working hard on our 2015 plans and hope to have an announcement soon," Lupton added. "I'll be racing next year that much is clear. It's important for us to make sure whatever step we take for next season, it's in the best interest for myself and those who support me."
In addition to Sunrise Ford, Go Pro and Lucas Oil, Eibach Springs, Immersion Media, Capitl and Company will adorn their logos on his Ford Fusion this weekend in California.
Entering Phoenix, Lupton has 30 NASCAR K&N Pro Series West starts to his credit with two career victories at Evergreen Speedway (2013) and most recently at Kern County (Calif.) Raceway Park. During his NASCAR K&N tenure, Lupton has accumulated 12 top-fives and 25 top-10 finishes. A third place qualifying effort at Lebanon I-44 Speedway (June 2013) is his best time trials effort to date. He has controlled the K&N field five times for 86 laps.
The Casino Arizona 100 (100 miles / 100 laps) is set for Thursday, November 6. The 100-lap feature will commence shortly after 5:30 p.m. Mountain. The #CasinoArizona100 is the 14th race of the NASCAR K&N Pro Series West season. This will mark the 21st visit by the NASCAR K&N Pro Series West to PIR. The series wrapped up its season at PIR for eight straight years from 1977 to 1984. Seven of the combination events with the NASCAR Sprint Cup Series marked the final event, culminating in 1995. More recently, the series concluded its season at Phoenix in 2004 and then again from 2010 through 2013.
For more on Dylan Lupton, please visit LuptonRacing.com or follow him on Twitter @LuptonDylan.
-30-
Connect with The Crittenden Automotive Library