NASCAR Next's Dylan Lupton Takes Momentum To Idaho
NASCAR Next's Dylan Lupton Takes Momentum To Idaho
Chris Knight
Knight Motorsports Management
July 9, 2014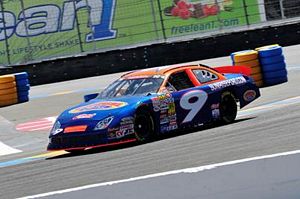 The No. 9 Sunrise Ford / Go Pro / Lucas Oil Ford Fusion driven by Dylan Lupton (@LuptonDylan) in the NASCAR K&N Pro Series West (NKNPSW) division for Sunrise Ford Racing.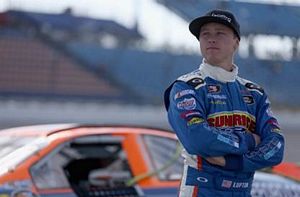 Dylan Lupton (@LuptonDylan), driver of the No. 9 Sunrise Ford / Go Pro / Lucas Oil Ford Fusion in the NASCAR K&N Pro Series West (NKNPSW) division for Sunrise Ford Racing.
POST FALLS, Idaho (July 9, 2014)
- - With all due respect, NASCAR Next driver Dylan Lupton (@LuptonDylan) has a reason to boast about his 2014 NASCAR K&N Pro Series West (#KNWEST) season.
But, for this quiet, focused and determined young man, six consecutive top-10 finishes this season isn't enough. Despite four top-fives, which includes a second-place finish in Bakersfield, California, Lupton has never been hungrier for a win.
He hopes to satisfy his appetite on Saturday night in the running of the Napa Auto Parts 150.
On the heels of a stout third place performance last month in his backyard at Sonoma (Calif.) Raceway, Lupton has continued to earn recognition for his consistency behind the wheel of the No. 9 Sunrise Ford / Go Pro / Lucas Oil Ford Fusion, but Lupton will be the first to tell you, there's still work to be done.
"I'm looking really forward to getting back in the racecar after that last few weekends off," offered Lupton, the 2013 NASCAR K&N Pro Series West rookie of the year. "After what I thought was a great showing at Sonoma, I am ready to get back to the track and battle for a win. We have been fast all year long and have shown the speed to get to victory lane, so I believe we have a great shot of ending up there after the race on Saturday night."
For the first time in nearly three decades, the tour returns to Stateline Speedway in Idaho. While Lupton has never been to the track, he knows that most, if not all of his competition hasn't either. He's hoping that some extra ammunition to propel his Sunrise Ford Racing team to victory lane.
"It's very cool to go back to a place of old, but in this case for me, something new," Lupton added. "I'll be honest, I don't know much about the track, but I'm not worried. "We've had good cars all season long and I know my team has been working hard to make sure we'll be in good shape when we hit the track.
"I keep telling myself that this could be the weekend I get to take our No. 9 Sunrise Ford / Go Pro / Lucas Oil Ford Fusion back to victory lane, but I know it won't come easy. There's a lot of great competitors who want to win just as bad as I do. It's our job to make sure we do the best we can to be in contention at the end."
With six races down and eight to go, The Sunrise Ford Racing driver controls second in the championship standings, 21 points behind veteran and points leader Greg Pursley. With his run at Sonoma (Calif.) Raceway, Lupton advanced one position surpassing David Mayhew, but unfortunately lost a point on Pursley.
"It's never too early to start thinking about points, but I believe if we want to start gaining some back on Pursley, we are going to have to straight up beat him for the win," Lupton sounded. "I have watched a couple of YouTube videos of the track and I think it will fit well with my driving style. We work really hard and there's still a long ways to go in the season, but we have to be strategic to make sure we stay in this championship battle."
Following racing on Saturday night, Lupton will make a cross-country trip to Mooresville, North Carolina next week to participate in a NASCAR Next media availability at the vastly popular GoPro Motorplex on Wednesday, July 16.
"I'm looking forward to next week," he mentioned. "I'm extremely grateful to be a part of the NASCAR Next program and the opportunity to meet with the media, and also have a little fun with them on the go-kart track. Of course, it will be great to be around the other NASCAR Next members too."
In addition to Sunrise Ford, Go Pro and Lucas Oil, Eibach Springs, Immersion Media, Capitl and Company will adorn their logos on his Ford Fusion this weekend at Sonoma.
Entering Stateline, Lupton has 24 NASCAR K&N Pro Series West starts to his credit with one career victory at Evergreen Speedway (2013). During his NASCAR K&N tenure, Lupton has accumulated eight top-fives and 18 top-10 finishes. A third place qualifying effort at Lebanon I-44 Speedway (June 2013) is his best time trials effort to date. He has controlled the K&N field once for six laps.
The Napa Auto Parts 150 is set for Saturday, July 12. The 150-lap feature will commence shortly after 9:00 p.m. Pacific. This weekend will mark the series' first visit to the track since 1985. It is the seventh of 14 events on the 2014 schedule.
For more on Dylan Lupton, please visit LuptonRacing.com or follow him on Twitter @LuptonDylan.
###
Connect with The Crittenden Automotive Library