Sonoma Never More Important For NASCAR Next Driver Dylan Lupton
Sonoma Never More Important For NASCAR Next Driver Dylan Lupton
Chris Knight
Knight Motorsports Management
June 18, 2014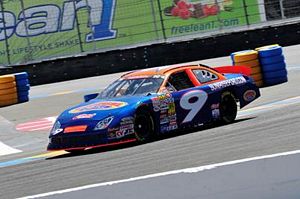 The No. 9 Sunrise Ford / Go Pro / Lucas Oil Ford Fusion driven by Dylan Lupton (@LuptonDylan) in the NASCAR K&N Pro Series West (NKNPSW) division for Sunrise Ford Racing.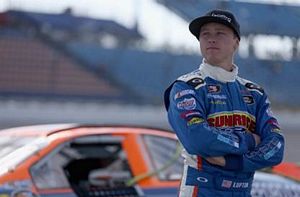 Dylan Lupton (@LuptonDylan), driver of the No. 9 Sunrise Ford / Go Pro / Lucas Oil Ford Fusion in the NASCAR K&N Pro Series West (NKNPSW) division for Sunrise Ford Racing.
SONOMA, California (June 19, 2014)
- - NASCAR Next driver Dylan Lupton (@LuptonDylan) is familiar with pressure. After all, he is a racecar driver.
However, as the NASCAR K&N Pro Series West (#KNWEST) tour heads to Sonoma (Calif.) Raceway for Saturday's Carneros 200, Lupton is driven to keep his stellar season on-track in his own backyard.
The Wilton, California native grew up approximately 86 miles west of the 1.99-mile road course and is poised to make his second-start at the 12-turn race track. While finishing eighth last year in a 35-car field deserves some accolades, Lupton is seeking his sixth straight top-10 finish of the year, but more importantly seek his second career K&N West Series victory.
"I'm very excited for this weekend of racing at Sonoma," said Lupton. "I started my racing career in go-karts at Sonoma on the top of the hill at the kart track, so I consider this my home track. I feel very comfortable on road courses, so I look forward to getting on the track in front of all my friends, family and hopeful future marketing partners that are coming out to the track."
Victory Lane is something that Lupton, driver of the No. 9 Sunrise Ford / Go Pro / Lucas Oil Ford Fusion is inching closer towards again. In the most recent race at Kern County (Calif.) Raceway Park, Lupton continued to elevate an already consistent season with a season-best runner-up performance. While finishing second was disappointing, it did give the Californian continued momentum heading into the sixth race of the season.
"The Sunrise Ford Racing team has been working extremely hard to make sure that we are well prepared coming into this weekend," offered 20-year old Lupton. "We did a little bit of testing out at Buttonwillow (Raceway Park) a few weeks ago and I have acquired some laps in a super late model at Sonoma, plus I was just in a kart earlier this week getting in hundreds of laps to "fine tune" my road course sills before this weekend, so I think I'm ready."
While Lupton is driven to staying clear to his agenda on the racetrack, he's spent some time off the track focused on a different initiative. On Wednesday afternoon, he met with the Boys & Girls Club of Sonoma Valley using high level professional motorsports as a tool to reach thousands of students across the nation with a message.
"My "Stay in School / STEM (Science, Technology, Engineering and Math) Initiative" program means a lot to me," the 2013 NASCAR K&N Pro Series West rookie of the year said. "I am not only a race car driver, but also a full-time student at the University of North Carolina at Charlotte. My goal is to push students to work hard in school and pursue higher education after high school, while also getting them interested in NASCAR and out to the racetrack. My main message to the students is, "Education is key to success, no matter where your dreams take you."
On Saturday though, Lupton hopes to deliver his own message in front of NASCAR's top-tier owners and teams.
"Being a member of the NASCAR Next program, I feel like this is my weekend to shine in front of the top-tier teams and owners," Lupton sounded. "There are five Cup drivers that are racing in the K&N race, so getting a win against them would be a really good showing of my talent. Plus, we're still in this hunt for the championship, so a good day on Saturday would be important in more ways than one.
"This season has been great so far with three top fives and five top-10s in the first five races. Last time out, we were battling for the win and ended up bringing the No. 9 Sunrise Ford / Go Pro / Lucas Oil Ford to a second-place finish. We have the speed to win, especially on a road course, so I'm counting down the days to get on the race track."
With five races down and nine to go, The Sunrise Ford Racing driver controls third in the championship standings, just two points behind second-place competitor David Mayhew and 20 behind veteran and points leader Greg Pursley.
In addition to Sunrise Ford, Go Pro and Lucas Oil, Eibach Springs, Immersion Media, Capitl and Company will adorn their logos on his Ford Fusion this weekend at Sonoma.
Entering Sonoma, Lupton has 23 NASCAR K&N Pro Series West starts to his credit with one career victory at Evergreen Speedway (2013). During his NASCAR K&N tenure, Lupton has accumulated seven top-fives and 17 top-10 finishes. A third place qualifying effort at Lebanon I-44 Speedway (June 2013) is his best time trials effort to date. He has controlled the K&N field once for six laps.
The Carneros 200 is set for Saturday, June 21 from The Golden State. The 64-lap feature will commence shortly after 12:30 p.m. Pacific. The #Carneros200 is the sixth race of the NASCAR K&N Pro Series West season. This weekend will mark the series' 34th visit to the track since 1969. It is the sixth of 14 events on the 2014 schedule.
For more on Dylan Lupton, please visit LuptonRacing.com or follow him on Twitter @LuptonDylan.
###
Connect with The Crittenden Automotive Library